Bao Bei's a Chinatown Gem
Posted by Degan Walters on Saturday, January 16th, 2010
Tags for this Article: brasserie, chinatown, chinese, cocktails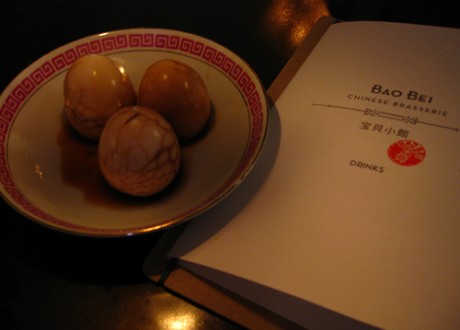 Chinatown got a little bit cooler last night. With the exception of the Alibi Room on one end and Campagnolo on the other, the dining and drinking establishments are not exactly what you'd call sexy. But former Chambar bartender Tanis Ling's Chinatown brasserie, Bao Bei opened officially last night. A quirky, cute decor backed up by serious bartending talent and a large, creative menu, it's a gem set to shine as bright as it's brand new neon sign.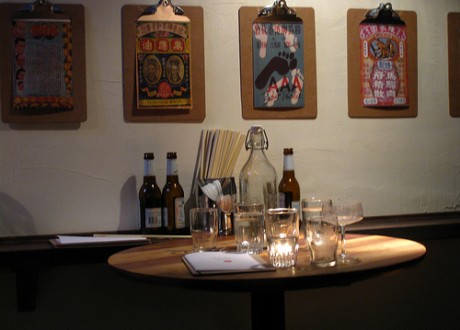 I tried the pineapple skewer with chili lime salt, spicy wontons in chili sauce, shao bing (sesame bun with braised pork),  clamshell mantou short rib dumplings, pot stickers, duck congee, and even managed to sample some of the tea eggs, crispy daikon cake, avocado ice cream and mango pudding from our neighbours. We wanted badly to try the fried bananas but frankly it would have just been disgusting to still be eating at that point.
To wash it down we had an Asian-inspired margarita with tangerine peel salted rim, a Sichuan pepper infused bloody mary, an enormous pina colada, the popular "Health Tonic" with beet and pear juice and my favorite of the list, Madame Chiang with gin, Fernet Branca and grapefruit juice. There were also a couple of "Tanis" specialties including a nameless one I loved with orange blossom water, Lillet, gin and basil.
Sipping on a pina colada, complete with umbrella, amongst the mis-matched collection of Chinese art and ephemera felt a little out of place and I was surprised at the "traditional" cocktails on the menu. The Asian influence was obvious in several of them, but with a menu so solidly Chinese and a room that pulled off the concept of "Chinese brasserie" endearingly, I thought there would be bigger leaps. That may be coming soon, however, judging by the appearance of a candied kumquat and an unfamiliar dried bitter citrus fruit.
The place was packed last night, a trend that will likely continue with The Keefer opening soon and the Chinatown revitalization project forging ahead. Bao Bei is at 163 Keefer Street.