They had free soup?
Posted by Ben Garfinkel on Thursday, March 30th, 2006
Tags for this Article: cheap, chinatown, chinese, hole-in-the-wall, Kent's Kitchen, lunch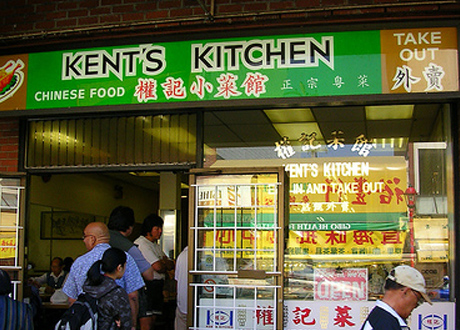 Since we're located practically next door to Chinatown, we often venture over for a little lunch. This week we checked out Kent's Kitchen at 232 Keefer. This is a place we'd often wander past after eating somewhere else and say, "We should go there next time!" Well, this time we did. Despite this comment on Dinehere.ca : "Past incidents with the Heath Inspectors is a bit unsettling", the place is unbelievably busy. With hot and fresh food being replenished constantly, it looks ten times better than any food court offering and is way better value. Suffice it to say, we haven't experienced any health related 'issues' from the experience and in the category of 'cheap hole-in-the-wall' give it a two forks (chopsticks) up rating. Oh, and apparently they have free soup available at the end of the counter.
Kent's Kitchen is located 232 Keefer Street in Vancouver, BC; (604) 669-2237