Spiced blueberry and orange olive oil muffins
Posted by Jules Morgan on Monday, January 18th, 2010
Tags for this Article: blueberry, Breakfast, muffins, olive oil, recipe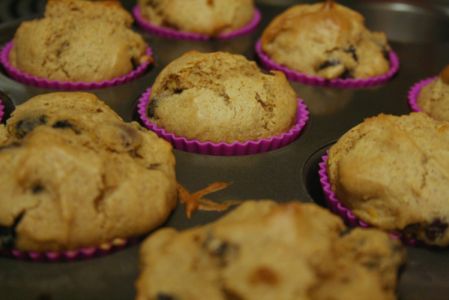 It is Sunday morning, one of those rare, sunny January days where brunch plans have been cancelled last minute and I haven't made it out to do my grocery shopping. A quick glance in my fridge is less than inspiring; random condiments, a lone orange and a handful of blueberries.
A perfect morning for baking, with "This American Life" in the background and a cup of freshly brewed coffee. Inspired by a recipe scrawled on the back of an envelope, I substituted olive oil for butter and added ginger and orange zest.
5 tablespoons olive oil
3/4 cup packed brown sugar
1/2 cup whole milk
2 teaspoons grated orange zest
1 egg
1 1/2 cups all purpose flour
1 1/2 teaspoons baking powder
1 teaspoon cinnamon
1 teaspoon ginger
1/2 teaspoon salt
1 1/2 cups blueberries
Preheat oven to 400. Line muffin tin with liners.
Whisk together olive oil, brown sugar, milk, zest and egg in a bowl until combined well and set aside. Whisk flour, baking powder, spices and salt in a large bowl. Add wet ingredients to the dry and stir until just combined. Gently fold in blueberries
Fill muffin liners to the top and bake to a golden brown, about 25-30 mins. Muffins are done when a toothpick inserted into the muffin comes out clean.
Enjoy!