Robbie Burns Day: the Whisky
Posted by Degan Walters on Monday, February 1st, 2010
Tags for this Article: holiday, Scotch, shebeen, whiskey, whisky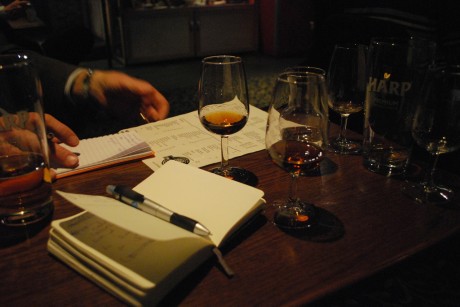 When I was young, Robbie Burns Day meant highland dancing in some sort of festival, but now that I know better, it has come to mean whisky. Robbie Burns day is the closest thing to a Scotch national holiday and while it's traditions vary from drinking whisky, eating haggis and reciting rhyming poetry, any scotsmen around are likely to have a drink in hand. And so last week my dad and I found ourselves at the Shebeen for a Cask Strength whisky tasting with Peter Currie, global ambassador for Springbank distillery.
Springbank is the oldest independent family owned distillery in Scotland and has recieved a lot of renown for their single malts, especially the 10 year old, but we weren't tasting any of the traditional ones this time around. The first pour was a 2004 Kilkerran single malt. They were trying to achieve a Talisker-like whisky here, but with apricot and banana notes, there's a lot more fruit on the palate before it finishes peppery and hot. I can't say I've ever noted banana in a scotch so I was intrigued by this one.
Next up was a 12 year old Hazelburn,un-peated in the style of Bushmills Irish whiskey. It seems like there was kind of a youngest child syndrome going on here because they had three each of fino sherry, bourbon, port and madeira casks to age the whisky in, but doing so many small runs of different casks wouldn't have made sense. Instead they aged them and then mixed them all together, resulting in a honeyed, caramelly, easy-drinking scotch. The individual notes from the casks obviously doesn't come through here, but the sweetness does and their eagerness to experiment is clearly paying off. The 2001 Springbank vintage was decent but somewhat forgettable, then it was back to the wine finishes with the Madeira Wood, aged 11 years in Madeira casks. This one is a rich, chocolatey, buttery whisky with truffle and coffee notes that I found a bit sweetish for my liking normally,  but I fell for it nonetheless.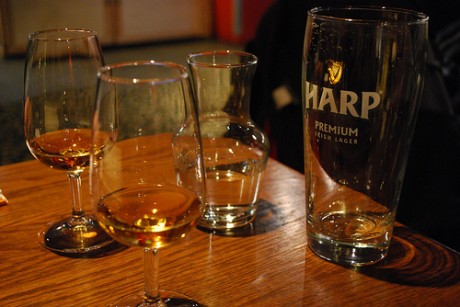 Not as hard as I fell for the next one, however, which is a problem because Springbank doesn't have any left. The Springbank 21     year old single malt is not in fact 21 years old, but a conglomeration of several whiskies whose medium age is actually 27-28. Andrew of Cask Strength calls it his "desert island whisky" and so it's a good thing he has another one because he brought the bottle from his collection. Caramel coloured and honeyed this is a smooth, sophisticated, beautiful whisky.
We finished up with a heavily peated Longrow 18, yellow in color and bursting with flavour. The peat rolls around in your mouth like a horse in dirt and finishes with a great deal of smokiness. Delicious.
Springbank is the only distillery that contains their whole operation on premise from start to finish, from milling their own barleyto bottling. Additionally, every bottle is corked and labeled by hand but despite the care that goes into the creation of the whisky, Peter got to the heart of what it's really about: "getting a glass into people's hands and saying 'try this', it's f*king good stuff."