The French Laundry
Posted by Brenda Lowe on Sunday, March 7th, 2010
Tags for this Article: California, French Laundry, Napa Valley, Thomas Keller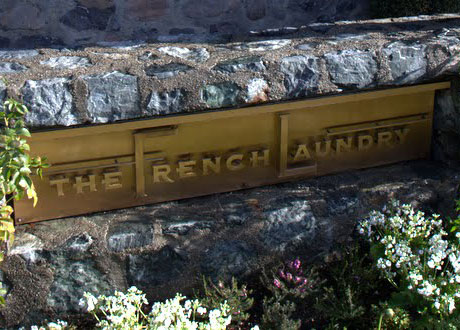 Costco is not something that one would normally think of as being associated with The French Laundry but it was there that I had my first encounter with the famous restaurant. It was years ago, while browsing the book aisle, that I came across a large tome in the cookbook section. The minimalist cover was what caught my eye. An elegantly folded napkin neatly held together by a wooden clothespin placed on a plate against a white background. Then the title puzzled me, 'The French Laundry Cookbook'. Wait, a cookbook that didn't show food on the cover? Huh. Curious. For the next half hour I pored over its pages, gawking at the beautiful photographs of dishes that were so different than anything I'd seen before. And then I walked away, thinking there was no way a book like that would ever be practical.
To hell with practical. Eventually I realized what the French Laundry was, bought the book, read it cover to cover, and even cooked from it. But actually dining at the restaurant felt like something out of reach. Then a few months ago, the opportunity presented itself and my husband and I jumped on it.
We joined two other friends there for dinner at the beginning of February, both of whom had been there before. From talking to them and others, and much reading on the Internet, I had an idea of what to expect. Battle strategy: don't eat during the day if you can or only enough to take the edge off, drink lots of fluids (tea is great), wear formal but comfortable clothes. Jackets are required for the men. During the meal, pace yourself. Eat slowly and savor it. Don't fill up on bread. There's going to be a lot of food. And it will be rich. A lot. Seriously.
The French Laundry is located on the main street of Yountville, a tiny town in Napa Valley with a population of a few thousand people. The building is a small two storey stone and wooden structure that blends into its surroundings and can be easy to miss.

Street view of the restaurant.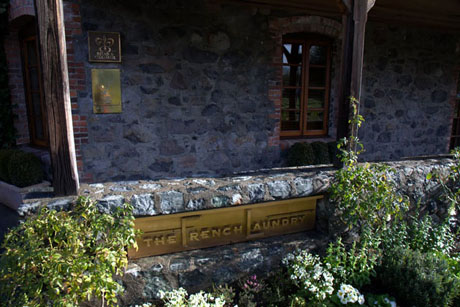 Award plaques from the 'Relais & Chateaux' and 'Traditions & Qualité' associations.

The French Laundry's vegetable garden and greenhouse across the street.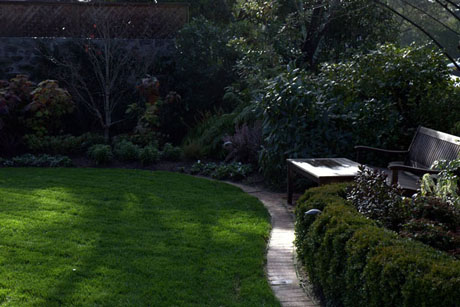 A small garden on the restaurant property where guests can sit and relax between courses.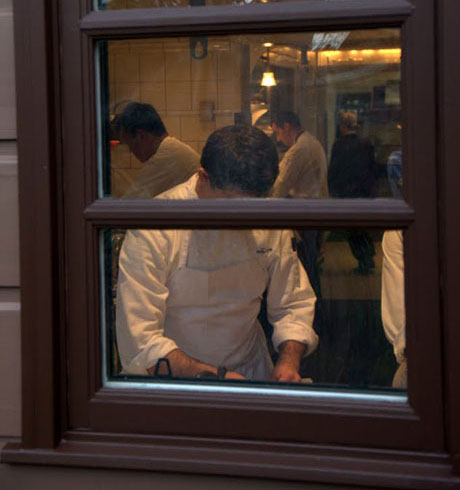 The view into the kitchen from the garden.
The French Laundry is open for lunch and dinner service; the menus are the same for both and changes daily. The advantage of lunch service is that you can take a break or two between courses and sit in the garden. With dinner service, and depending on the time of the reservation, the meal can go very late into the night.
The restaurant seats approximately 70 guests, with tables upstairs and downstairs. The kitchen and wine cellar are located on the main floor, away from the main dining room. The place settings at the tables have folded napkins (just like on the book cover) with embossed clothespins.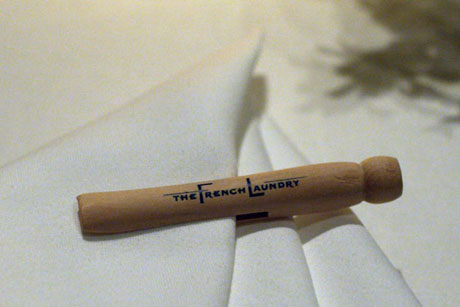 Keepsake signature clothespin
There are two tasting menus available every night; one is vegetarian. There are also add on options available for additional cost, which we did. (Hey if you're going to be eating at the French Laundry and it might be your only chance, you might as well go all the way.)
The meal starts with their signature canapes. Tiny coin sized gougeres with a warm cheese filling, and mini cornets filled with creme fraiche and topped with salmon tartare. Both are perfect and bite sized. The gougeres are crispy on the outside and molten on the inside. The salmon tartare is unbelievably smooth.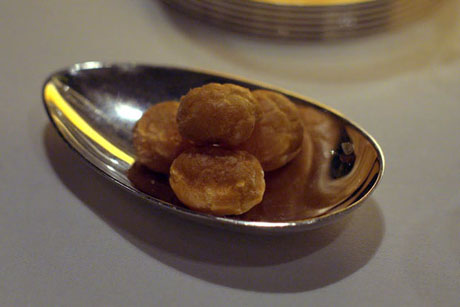 Cheese-Filled Gougeres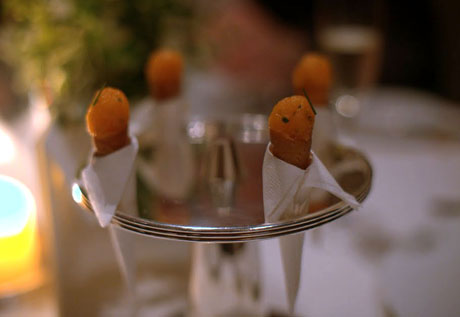 Salmon Cornets
Even though it is a fine dining restaurant, The French Laundry has a sense of humor in its decor as well as the food. Soft ambient lighting is provided by small lamps along the walls, but the lampshades are subtly decorated with the same symbols that are on clothing washing tags. They were designed by Raynaud for Per Se in New York but Chef Keller liked them so much that he used them at The French Laundry too.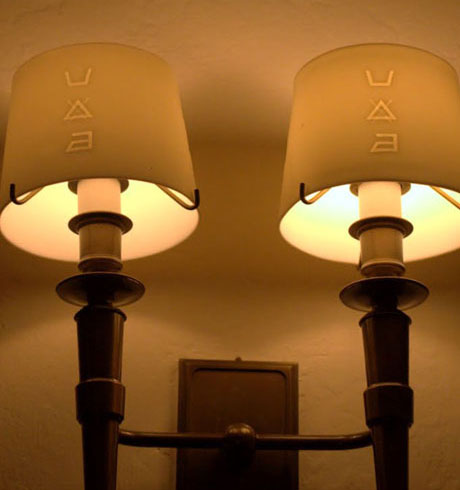 Laundry themed lighting
One of the most memorable courses was the Oysters and Pearls, another signature dish. Two small oysters are warmed in buttery sabayon, served atop tapioca pearls, and garnished with a quenelle of caviar. My husband doesn't normally like oysters but he loved this dish. I tried to convince him that he wouldn't like it but no deal. The serving spoon is made from a single piece of mother of pearl.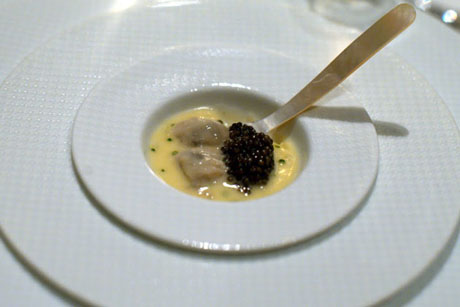 "Oysters and Pearls" – sabayon of pearl tapioca with oysters and white sturgeon caviar
One of the things that really stood out, and not specific to one dish, were the vegetables. So tiny but intense in flavor, and the work that must have gone into their preparation even though they were presented very simply. The radishes in this abalone course were less than 1 cm in size. Can you imagine having to clean vegetables that small!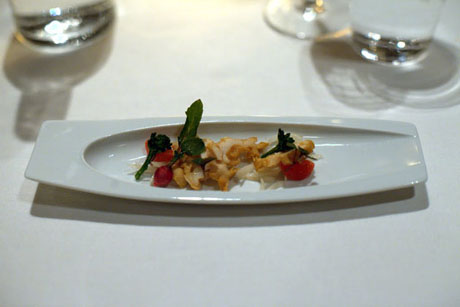 Marinated Monterey Bay Abalone – broccolini, radish, lilly bulb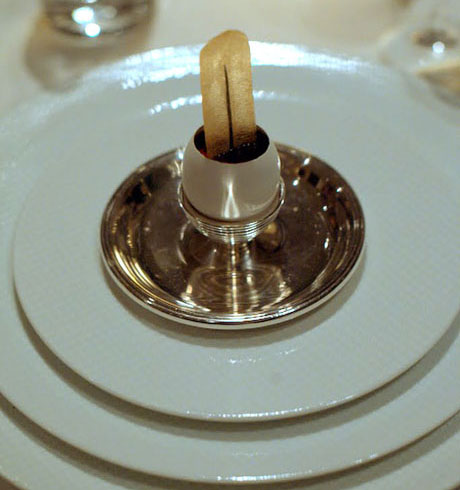 Hen Egg Custard – ragout of Perigord truffles
I think the butter bun was its own course, because everyone got one and different bread offerings where still to come. Like an extra buttery challah, rich and slightly warm. There were also two kinds of butter to go with it, salted and unsalted. Yes, butter with a butter bun. I'm still trying to figure out how they shaped and cut the dough so that it baked up that way.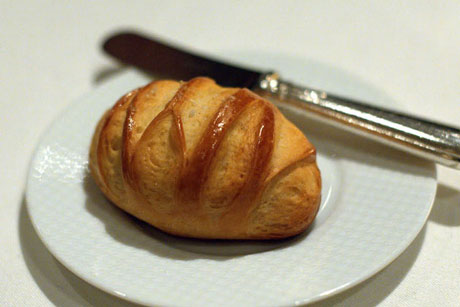 Butter bun
We dined at the restaurant at the beginning of February, so it was the perfect time of year for black truffles. The pasta dish arrived at the table under a cloche and when it was lifted, the first thing I noticed was an intense truffle aroma. Then they bought out a large black truffle in a locked box, and added the shavings tableside. Even without the shavings, this would have been the best pasta dish I've ever had.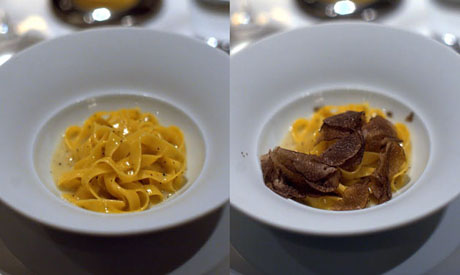 Hand-Cut "Tagliatelle" with black truffles from Provence
At this point a bread basket is bought around with several different types of buns to choose from. The most striking one was the pretzel roll, and it tasted exactly like a salty chewy giant pretzel only much smaller and tastier. It is really hard not to fill up on bread because they're so good, and you want to try them all. All of the bread served at the restaurant is made at Thomas Keller's Bouchon Bakery located a few steps away from the French Laundry. Sadly, the rolls are not for sale.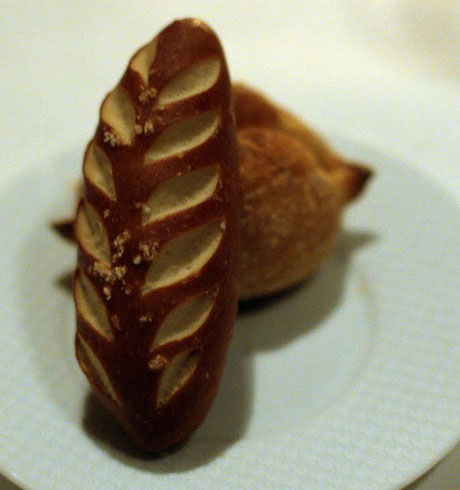 Pretzel roll and sourdough bun
I love foie gras, without apology. It is even more fun and delicious when served with a tasting flight of salts and toasted brioche. If you do not eat the brioche fast enough, it is taken away and replaced with a second slice because they believe that brioche should be warm when you eat it. (I wonder what they do with all that leftover bread?)
At this point we were starting to get full and I was wishing for a stretchy pair of yoga pants.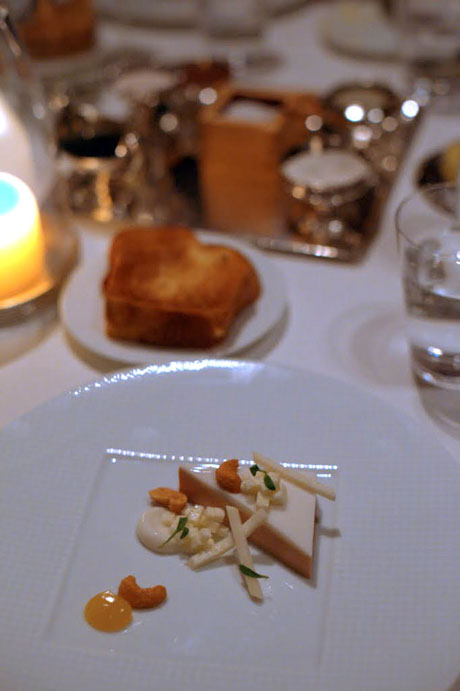 Moulard Duck "Foie Gras en Terrine" – yogurt glaze, roasted cashews, hearts of palm, passion fruit, cilantro. Warm brioche slice. Tasting of salts.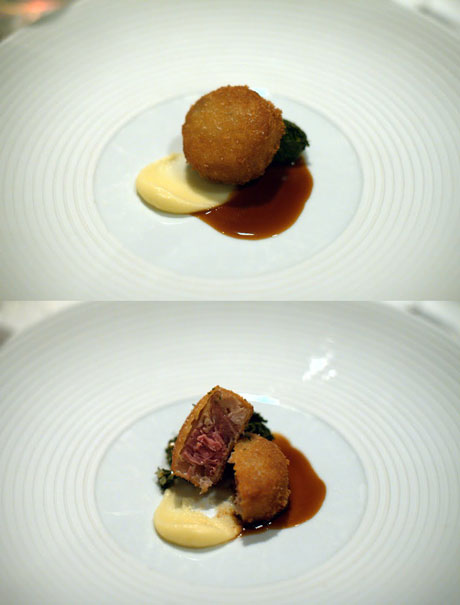 "Rouelle de Tete de Cochon" – Yukon Gold potato puree, melted collard greens, Blis maple syrup
A cheese course comes after the main dishes. My tolerance for blue cheese still needs work so I found this a bit too strong for my preference. The garnishes were very good though.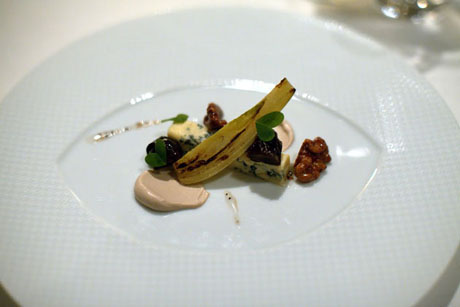 "Stilton" – French prune, walnuts, fennel bulb, black pepper gastrique
Even the palate cleanser course contains multiple components. Each part of this dish was a different temperature, texture and taste.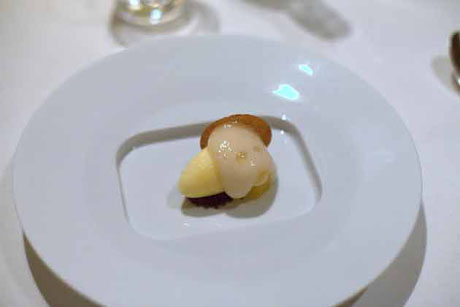 "Dark and Stormy" – pineapple sorbet, spiced gingerbread
The signature Coffee and Doughnuts dessert course made me giggle. Maybe it was the wine, but the first thing I said was "It's a Timbit!" This is one of the dishes that I've made from the cookbook, so I'm glad we got to try it at the restaurant.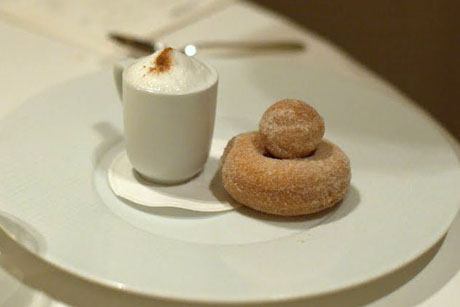 "Coffee and Doughnuts" – cinnamon sugared doughnuts, cappuccino semifreddo
You can never go wrong with peanut butter and chocolate. The small round chocolate orb in the middle of the bavarois was hollow, and filled with roasted peanuts.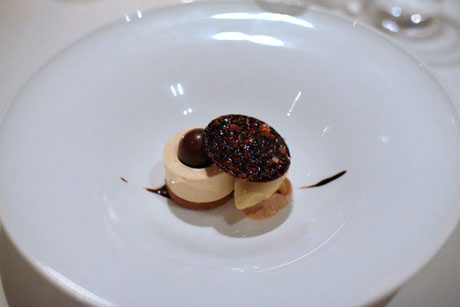 Peanut Butter Bavarois – candied peanuts, banana sorbet
We couldn't eat any more after the last dessert course so we got the mignardises packed up to go. The truffles are very intense and pure in flavour.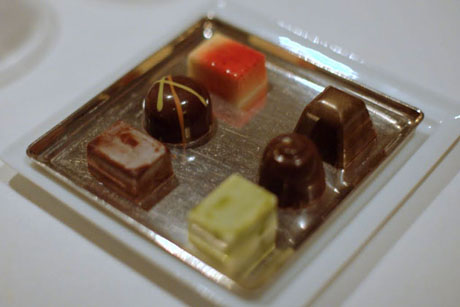 Mignardises – assorted truffles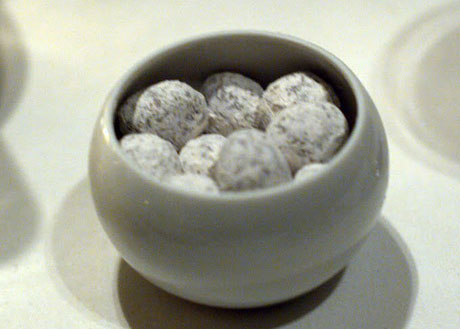 Mignardises – candied, chocolate-coated macadamia nuts
Each person also gets a small bag of shortbread to take home.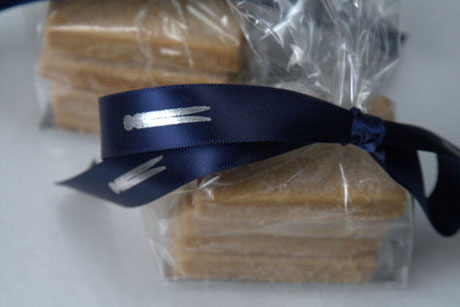 Scottish shortbread to take home
It was an amazing experience and one of the most memorable meals I've ever had. As Chef Keller inscribed in my cookbook, it's all about finesse. And it was.
The French Laundry
6640 Washington Street
Yountville, CA 94599-1301, United States
(707) 944-2380
www.frenchlaundry.com
Note: If you have a book that you want signed, or if you want to buy a signed copy from the restaurant, the reservation office of the French Laundry will make arrangements for it. Chef Keller was out of town at Per Se so I dropped off my copy of The French Laundry Cookbook with the reservation office (located behind the restaurant) the day before dinner. They provide a form where you specify a mailing address, billing information for the shipping charges, and an optional customized message. The form also has a section to request a signed copy of the dinner menu. The shipping charges worked out to $16 via US Post.