Charlie Loves Pizza
Posted by Degan Walters on Thursday, March 18th, 2010
Tags for this Article: lounge, pizza, Yaletown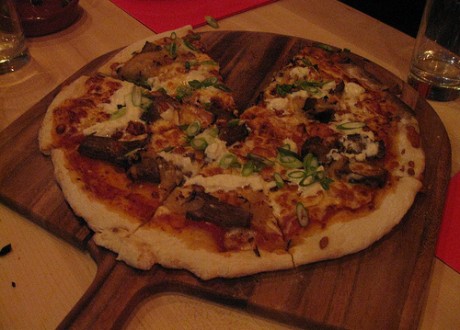 Charlie's, newly opened  in Yaletown, thinks there's an alternative to the 4 AM drunken, soggy pizza by the slice. Instead, they've opened a swish little lounge in the old Pinky's space that has tables around the perimeter and mostly lounge/bar space in the middle where you can have a glass of wine or a cocktail and sit and chat over…pizza.
The restaurant is modeled after an Australian concept and it seems they're trying to bridge the gap between restaurant and bar, for those customers who want to be out with friends for a casual drink and still get something good to eat.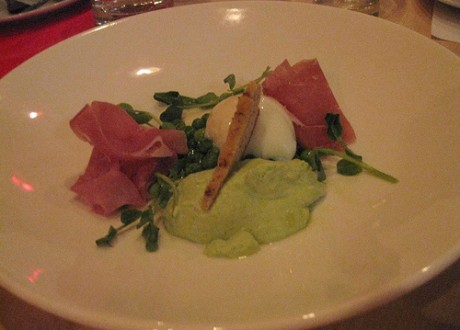 Admittedly, I don't eat much pizza, even of the thin-crust artisan variety, but I could see their creations being an attraction with groups because they're shared easily. They have a simple Margarita on the menu and I loved the short-rib/caramelized onion/mozza/horseradish cream pizza but it was the prosciutto/pea mousse/poached egg appy that I would go back for. Delicate but properly salted (something lacking in the crudo and cured salmon plates) and flavourful, this is a dish that makes a light precursor to the dough and cheese likely to follow.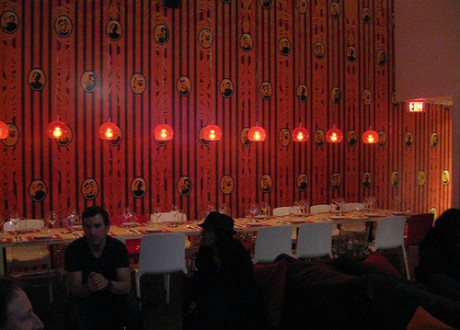 The room is funky and dim, like all good lounges. They have a conversation-starter chandelier over the bar that looks like a giant spider, and some custom wallpaper that seems to make everyone look good. Unfortunately this is the kind of place that does well with lots of foot traffic and it's across the Davie Street Divide that seems to make businesses suffer. Hopefully Charlie can make it stick.
Charlie's is at 1265 Hamilton Street.