Ottawa Debates: Poutine or Pizza & Gravy?
Posted by Alexa Clark on Sunday, August 5th, 2007
Tags for this Article: cheese, curds, fries, gravy, House of Georgie, late night snack, Ottawa, pizza, poutine, Street Food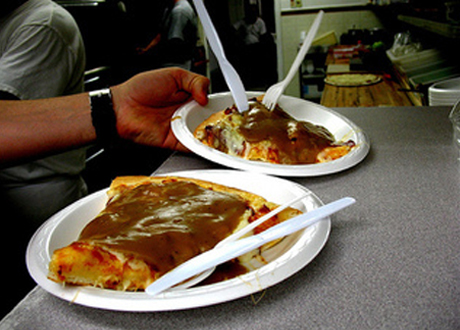 My friends have been talking about it, but none of us had tried it, so Friday after just enough beer to bolster our courage and cleanse our taste buds… we headed over to Ottawa's House of Georgie to try their "Gravy Pizza".
I hear there's currently a debate about where this new late-night food fad originated. House of Georgie & Sorento's was credited for the invention by a local magazine – Trendz, but others say it really originated around the corner at Colonnade.
Either way, Gravy Pizza, Pizza & Gravy or just simply P&G was inspired by poutine. You can see the similarities in the gravy, cheese and starch substance used to carry them to your hungry (and likely drunken) mouth.
So, on Friday night we tried the House of Georgie's version. I was surprised at how much better it was than I expected. The gravy and cheese was certainly reminiscent of poutine. The gravy and bready-dough was reminiscent of a hot chicken sandwich.
It wasn't bad, but for now I'm sticking to poutine.
Technorati tags: pizza and gravy, gravy pizza, house of georgie, colonnade pizza, sorento's, poutine, late night snacks, food fads