Spanish Snacks Come to Granville Street
Posted by Degan Walters on Sunday, December 13th, 2009
Tags for this Article: downtown, granville street, late night, octopus, pintxos, pulpo, sardines, sausage, sherry, snacks, Spanish, tapas, vancouver, Wine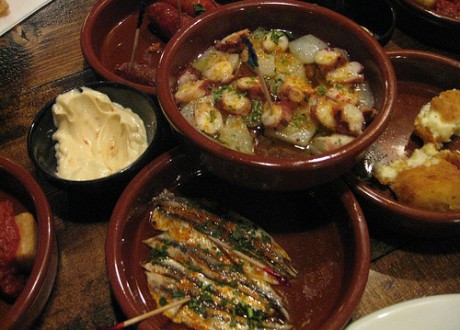 So much of Spanish culture appeals to me. When I read of Spaniards ducking into late night tapas joints for some pulpo or sardines on toast before heading home from a night of drinking, it makes the Granville Street options of cardboard-and-oil pizza or Tsui Hang specials even more unpalatable than they already are. Thankfully there's a new kid on the block doing something different. Cafe Barcelona has just opened at 1049 Granville serving tapas and pintxos (Basque bar snacks) until midnight every day.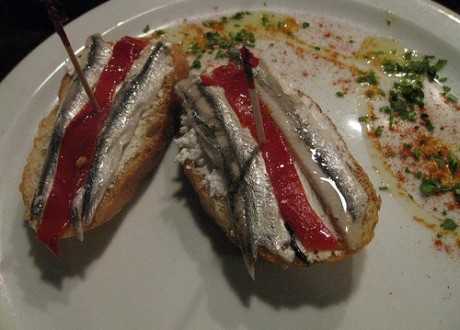 I admit that there was some trepedation in entering the newly opened, sparsely decorated little shop, but one look at the chalk specials menu, covered over in boquerones (marinated anchovies) and stuffed mussels and it seemed we would not be led astray.
We had the patatas bravas, a fried potato and tomato sauce dish guaranted to soak up the excess alcohol in your system, spicy sausage, sardines on toast and the aforementioned boquerones. I was enjoying the flavour and quality of the food so much that I even did something uncharacteristic of me and ate some of the marinated octopus without flinching.
The wine list is equally authentic and I picked a crisp white to wash down my food while my dining companions all sampled sherry.
I don't spend much time out on Granville Street these days, but I'm already thinking of a reason to be back in the neighbourhood soon.