Modern Tapas, yes! Shopping, no – Santa Caterina Market in Barcelona
Posted by Melody Fury on Monday, March 29th, 2010
Tags for this Article: Barcelona, market, spain, tapas, Travel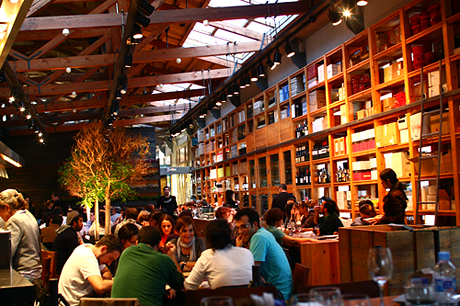 I'm sure you've heard of the incredible markets in Europe. You've heard about the eccentric fish mongers, the ceilings covered with cured meats and the fruit picked freshly from nearby farms. In reality, while some markets are remarkable culinary gems, many are equally forgettable.
Take one of the most famous markets in the world, Mercat de Santa Caterina in Barcelona for example. Like many of Barcelona's renewed architecture, this market's modern aesthetic is the epitome of beauty and function. From the tiled magic carpet that drapes as the roof, the raw wooden beams, to the tall windows that invite light into the airy space, the design alone puts a skip to any visitor's step.
The rows upon rows of immaculately stacked produce and merchandise are certainly gorgeous but also scream "tourist trap". When it comes to shopping, visitors best head to the smaller markets where the locals shop, the service is genuine and the prices are right. Nevertheless, this market is a must-visit so while you're there, be sure to drop by its restaurant. Santa Caterina Cuines is a delightful spot to sip Cava, mix and mingle, and people-watch. Squish your bum into the buzzing bar and order from their modern tapas selection. The prices aren't cheap but the superb quality and creative twists make every euro worthwhile.
Get the flash player here: http://www.adobe.com/flashplayer
Santa Caterina Cuines
Avinguda de Francesc Cambó, 20 – El Born
Barcelona, Spain