Chocolate 201: Artisan chocolate tasting series at Xoxolat
Posted by Eagranie Yuh on Wednesday, March 31st, 2010
Tags for this Article: amano, chocolate, claudio-corallo, patric, pralus, xoxolat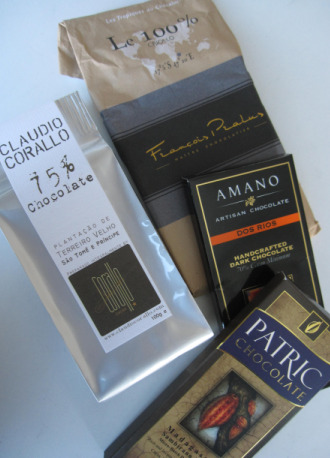 I've tasted a lot of chocolate. While I try to be objective, I definitely have my favourites. Over the past few years, I've had the opportunity to meet some of the chocolate makers behind my favourite bars.
Every time I meet one of these chocolate makers, I'm simultaneously thrilled and awed. Thrilled, because it's an honour to meet the person who creates such a great product, and awed because I think chocolate makers are a little bit crazy. You'd have to be crazy to go into a profession where you need to be comfortable with agriculture, chemistry, biology, physics, mechanics and engineering. And that isn't even accounting for the challenges of getting an agricultural product across international borders. And at the end of all that, to come up with chocolate that doesn't taste like dirt? And somehow manage to pay your bills? That's nothing short of a miracle.
I have been itching to tell these stories. Each chocolate maker has a unique personality and philosophy—and while the chocolate itself is lovely, I think the underlying story is what makes it magical.
So, I'm thrilled to announce my latest collaboration with Xoxolat. Together, we're presenting Chocolate 201, a four-part artisan chocolate tasting series.
Chocolate 201: Artisan Chocolate Tasting Series
When. Monday evenings:: April 12th, April 19th, April 26th, May 3rd
Time. 6:30–8:00 p.m.
Where. XOXOLAT, 2391 Burrard St (@ 8th Ave)
Who. Me! With guest scotch expert, Marcus von Albrecht, Von Albrecht & Association
Price. $100 (Includes four evenings of chocolate tasting & learning, with one session including a guided scotch tasting.)
Registration. Space is limited. Call 604.733.2462 to book now.
Join our introductory Chocolate 201 tasting series and hear stories of how the chocolate was transformed from tree to bean to bar. Learn about how chocolate is made and how to taste it. We'll explore the artisan products of Patric Chocolate, Pralus, Amano Artisan Chocolate, and Claudio Corallo.
Each 90-minute evening session will include samples from each of the featured chocolates, plus engaging stories about the people and company behind the scenes. Each class will also include samples from favourites like Zotter & Xoxolat's house line, and will close with a drinking chocolate shot. The Amano evening will be complemented with the VonAlbrecht & Association Islay series of scotches.
Space is limited. Call 604.733.2462 to book now.