Chocolate-Tasting Class at Kafka's Coffee and Tea
Posted by Eagranie Yuh on Tuesday, April 19th, 2011
Tags for this Article: chocolate, chocolate tasting, events, kafkas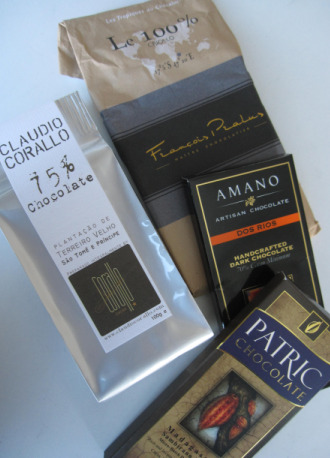 Life is too short for bad chocolate. If you've always wondered what that percentage on the chocolate bar label actually meant, or whether buying Fair Trade chocolate makes a difference, or just want to learn more about chocolate, I've got the thing for you.
Spend an evening learning about where chocolate comes from, how it's made and who makes it. You'll be entertained by stories of the chocolate makers I've met over the years and get to sample some of their products.
Details:
Tuesday, April 26, 2011
7:30-8:30 p.m.
Kafka's Coffee & Tea (2525 Main Street, Vancouver)
$15 plus HST and service fees.
Purchase tickets in advance: http://chocolate-tasting.eventbrite.com/