Spot Prawns on Rainbow Radish and Fiddlehead Salad
Posted by Melody Fury on Tuesday, May 11th, 2010
Tags for this Article: Fiddlehead, potato, Radish, recipe, Spot Prawns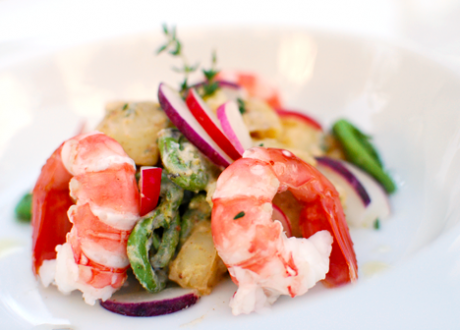 I typically never shop at Granville Island Public Market on the weekend because it is jam packed with browsers and tourists. After Spot Prawn Fest, I needed groceries so I reluctantly entered the gourmet vortex of insanity. As I became increasingly irritated by the crowds of onlookers and space invaders, I wrestled my way through and grabbed the most seasonal ingredients I could find.
Enough about spot prawns for a second.
Rainbow radishes and fiddleheads are stars in the market right now. I stomped home huffing and puffing, knocked back a glass of sake, and threw this little number together.
Fiddleheads are unfurled ferns that peeped shyly out of the soil. Their texture is a cross between brocolini and asparagus tips and they have a mild, grassy flavour. Be sure to clean them thoroughly and blanch them before consumption to remove shikimic acid that can cause blindness and impotence. Actually, it's just a mild toxin that's linked to cases of food poisoning. Just cook them through and you'll be fine.
Thinly sliced radishes lend a refreshing crispness and a tingly bite to salads. The tender summer potatoes bring body to the salad and acts as a humble base to the sweet and succulent poached spot prawns. Enjoy this dish on a sunny patio with a crisp glass of Pinot Gris or Rosé.
Spot Prawns on Rainbow Radish Fiddlehead Potato Salad
Ingredients
6 live spot prawns (or your favourite local seafood)
6 new potatoes – washed with skins on
2 handfuls unfurled fiddleheads – washed and trimmed
1 bunch rainbow radishes – sliced thinly
Dressing:
1/4 cup Dijon mustard
2 tbs apple cider vinegar
1 tsp paprika
2 sprigs of thyme, stripped
2 tbs extra virgin olive oil
1/4 cup plain yogurt
1 tsp honey
Salt and pepper to taste
---
Directions
Cover the potatoes with cold water in a saucepan. Bring the water to a boil and turn it down to a simmer. Season generously with salt. Cook with the lid on until a sharp knife slides into the potatoes with slight resistance (approx 15 min). Reserve the water in a separate bowl and keep the potatoes warm in the covered saucepan.
Meanwhile, combine the dressing ingredients (except the yogurt) with a whisk. Cube the hot potatoes and combine with the dressing. Set aside and allow the potatoes to absorb the flavours.
Prepare an ice bath. Bring some water to boil in a small saucepan. Add a large pinch of salt and the fiddleheads. Blanche the fiddleheads for 40 seconds, drain, and cool them in the ice bath.
Remove the spot prawn heads and shell and reserve for stock making. Keep the tail shell intact for presentation. Bring the reserved water from cooking the potatoes to a slow simmer. Turn off the heat and poach the prawns in the water until the tails curl up, approximately 30 seconds.
To finish:
Combine the fiddleheads, radish slices, and yogurt with the potato mixture. Taste and season with salt and pepper.
Divide the salad onto two plates and top with the prawn tails. Garnish with some fresh thyme and a drizzle of extra virgin olive oil.
Serves 2