Butchers of Gastown Take on a Lamb
Posted by Degan Walters on Friday, May 28th, 2010
Tags for this Article: angus, angus II, angusII, butcher, butchers of gastown, butchery, cooking, Cutter Ranch, lamb, meat, video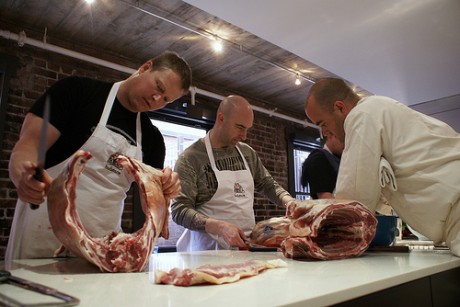 Photo credit: Todd Smith
It all started with a pig called Wanda. Then some members of the Foodists collective went on a road trip to Clinton, BC to pick out some lambs from Cutter Ranch. Now one of their fine animals has ended up on the Butchers of Gastown cutting table.
We all felt honoured to be a part of an event this special, and it was a sober moment as we laid out the carcass of Angus II, a beautiful, organic-raised lamb that lived a wonderful life running freely and dining on the wild grasses at Cutter Ranch Lamb. About 125lbs at slaughter, Angus II was about 65lbs with head and hooves on as she lay on our cutting table, with a bag containing the majority of its internal organs, or offal, such as lungs, heart, kidneys, liver, etc. Very little of this beast was going to be wasted.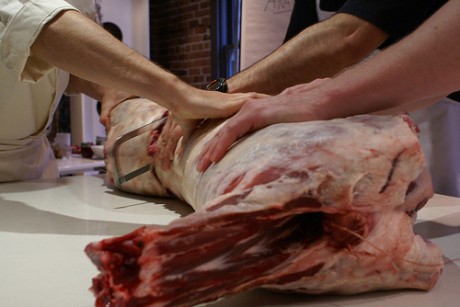 Photo credit: Kevin Broome
Prior to the arrival, Foodists' chef Anthony Nicalo sent a preparatory message to all would be butchers:
"Respect the animal. Show up on time and be prepared to work. You will eat some great food and take some with you to enjoy in the weeks and months to come, but the focus during butchery and prep is work—including cleaning. Take pleasure in the process of cooking and the responsibilities that come with the opportunity to cook—respect the animal and the farmer who raised it."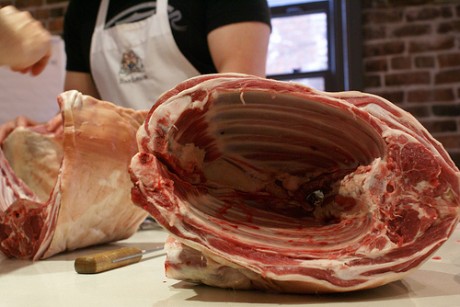 Photo credit: Kevin Broome
Many of the group had never butchered a whole animal before and were excited to learn new culinary techniques and processes, but some were pleasantly surprised by how the lead up to the event was less about techniques and more of the respect and honour to, not only our lamb, but to all ingredients being sourced from preparation to final plating. Sustainable, humane, providence, respect… words of wisdom and teaching to better understand and appreciate the entire cooking experience. From field to feast.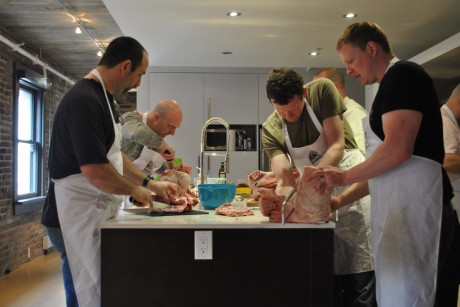 The morning started with champagne, prosciutto-morel omelettes and a selection of sausages and pâtés from D Original Sausage while the lamb was broken down into primal parts with hacksaws – now known around this kitchen as "lamberjacking". This was  followed by work on fine cuts and trim and snacking on lamb kidney brioche.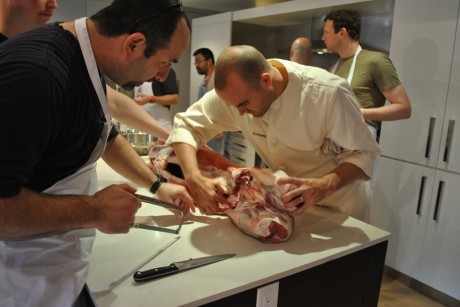 By mid-morning, stock was simmering on the stove, the shoulders were braising and a leg was being barbecued on the Cobb – on the fire escape. Tartare was made with some olive oil, verjus, capers and shallots and then we got out "the Porkert", our beloved grinder to start prepping meat for ragu.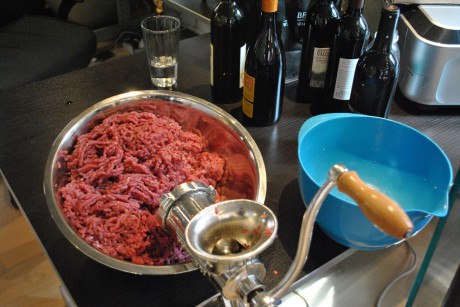 By 11:35 the carcass was gone and nothing in the trash save for some silver skin…many Foodists sporting animal-print band-aids, bloody aprons and huge grins.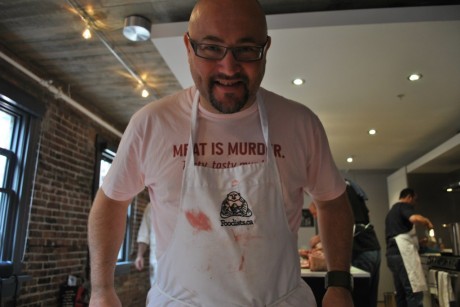 Then it was time for dinner plans.  There was to be tortelloni with ragu, lung, kidney and heart tied up in bacon. To make the pasta, dough was rolled out and cut, then packaged up assembly line style with many hands forming square stuffed pasta. All except for resident origami master, Joseph Wu's, however. Earlier in the day he had been making paper versions of Angus but given a new medium, started in making tasty tortelloni swans.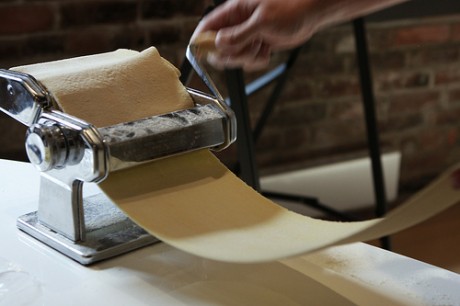 And then it was time to eat. It was a fantastic day all around; eating, drinking, talking, learning, grinning. There are plenty more photos of the event in the Flickr pool if you're interested.
The Butchers of Gastown from The Foodists on Vimeo.  (A short documentary film of the event, produced by fellow Foodists Erin Mussulom and Nathan Garfinkel)
Thanks to…
…Cutter Ranch for such a fine animal
…Chef Anthony Nicalo for his guidance and patience
…Evan Leeson for the use of his excellent kitchen
…Erin Mussulom and Nathan Garfinkel for producing a fine video archive of the event
…Mark Busse for helping write this, as well as Todd Smith, Steve Chan and others who contributed their photographic skills during the day.