Angus Tagine with Origami Lamb
Posted by Evan Leeson on Tuesday, May 18th, 2010
Tags for this Article: angus, butchers of gastown, cous cous, lamb shanks, morocco, tagine, test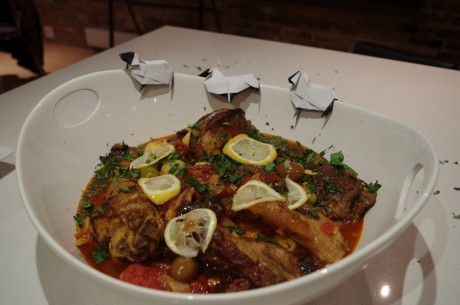 I've never been one to have enough of anything so I pulled out one of my favorite dishes tonight for a friend and used the last bits of Angus (the star of our recent Butchers of Gastown event) in my fridge for a variation on Moroccan lamb tagine.
First I browned my seasoned lamb parts – two shanks and some delicious other random bits including the tips of the tenderloins from the shoulders and one mystery piece that looked a lot like belly but not sure – in a heavy cast iron crock. Then, deglazed the crock with large-dice mirepoix and some garlic chunks. Then I added some lamb stock made over the course of eight hours yesterday and my lamb parts and brought it to a simmer. I then covered the crock and popped it in a 300 degree convection roast oven for 2 hours.
Once out of the oven I removed the meat from the braising liquid and strained the liquid into a bowl.
I then cleaned the crock and put it back on the stove at medium high heat with a lot of quality olive oil. Sauteed sweet onion chunks, garlic, then added to toast on the bottom of the crock one tsp each of ground cumin, paprika, turmeric, cayenne pepper, dashes of cinnamon, five spice powder, sea salt, pepper. Then dried apricot, one large can of San Marzano tomatoes with juice, tiny nugget white tomatoes, whole shitakes, a selection of whole olives pits in, chunks of eggplant, medjool dates halved with pits removed, and slivered almonds.
Most importantly I added a solid pinch of warm water-steeped saffron and the strained lamb stock from the braise.
Brought it back to a simmer then put it back in the oven for one hour at 325.
Once finished I served it cous cous style – I prepped a cup and a half of cous cous, put it in the bottom of a large serving dish (pictured above) and laid the tagine on top.
Before I started the main I made hurry-up preserved lemons. Thin-slice a lemon and mix 50/50 kosher salt and white sugar. Layer the lemon slices on a plate with the salt/sugar mixture then cover with plastic, put another plate on top, then a towel and a heavy object. I used my mortar and pestle. The outcome was a pleasant surprise given I had not tried this before.
The lemons turned out quite nicely and fit in well as a finishing garnish along with rough-chopped flat-leaf parsley and mint, and a splash of high-quality olive oil.
In spite of the strong North African idiom Angus was still shining through, imparting the same delicate yet distinct flavor we all raved about on Sunday,
Thanks Angus. Thanks Sasha. Thanks to my Foodist brothers and sisters who left the bits and pieces (special nod to Ben) for me to prep tonight.