MARKET's Patio is Open! For Brunch!
Posted by Degan Walters on Monday, June 6th, 2011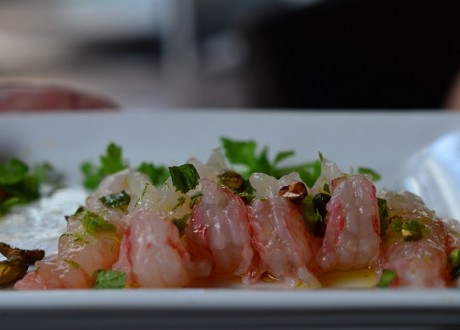 MARKET (by Jean-Georges) has always been more of a late-night favorite for me, but after taking a cruise through their brunch menu it seems likely I'll be persuaded to adjust my schedule.
From 11:30 AM until 3 PM, brunch is served inside and out and for $35 you can do a prix fixe brunch that will get you a choice of two plates and a dessert. Even if you're not too hungry, it's easy to pass an afternoon on the shady, spacious patio and not notice the time while you snack and sip and people watch. It's so ridiculously pleasant that I've been there two weekends in a row now.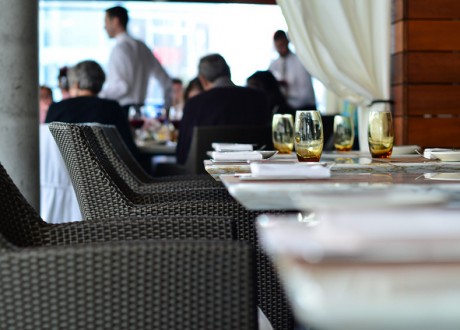 For a light lunch, start with the seasonal spot prawn sashimi. Dressed in pistachio, chili and mint, it is an amazingly delicate and flavourful dish, full of tang and crunch and I could eat it until it goes out of season. It would go perfectly with a glass of bubbles but as it were we had a 'MARKET 75' cocktail – a variation on a French 75 made with Victoria Gin, Apricot Roussillon, Taboo absinthe, sparkling wine, and lemon juice – made by barman Jay Jones and no complaints there either.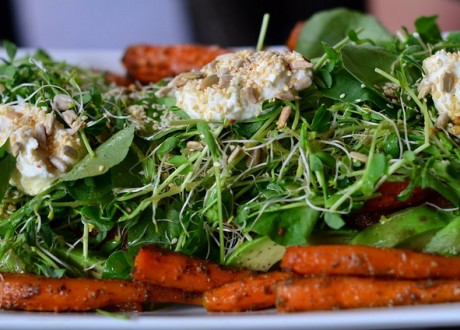 The honey-cumin roasted carrot salad was another favorite. Made with pea sprouts, alfalfa sprouts, sour cream, avocado and sesame seeds ,it is creamy and spicy and decadent in a way you don't expect a salad to be – and you can reward yourself for your healthy choices by following it up with a strawberry yuzu tart.
For those with a sweet tooth, the bruléed brioche french toast topped with peaches and crispy bacon is like starting the day with a syrupy donut or the chocolate pudding with creme fraiche and candied violets is a lighter but no less sweet item, although I prefer my sweets in liquid form and went for the blueberry sangria.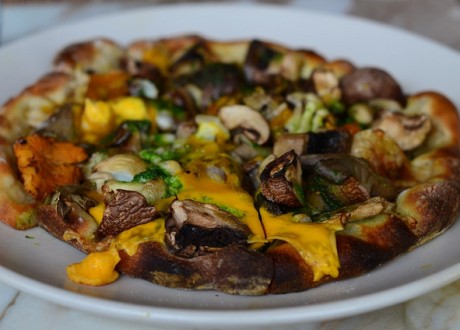 If however you were out late the night before, either the short rib poutine or the mushroom and pesto pizza are easy contenders for best hangover breakfast. Both come with an egg – a poached egg on the poutine and a cracked egg on top of the beautiful soft pizza crust – to bring it into the realm of breakfast. And the egg cooking slowly into the different mushroom textures on the pizza is just incredible. The egg on the poutine could have been softer, although I'm sure they can do that to order next time around.
Now I just have to try out Jay's variation on a Caesar and I think I'm set.
MARKET by Jean-Georges is in the Shangri-la Hotel, 128 West Georgia Street.