Most Creative Food Stop-Motion Videos
Posted by Melody Fury on Thursday, June 17th, 2010
Tags for this Article: video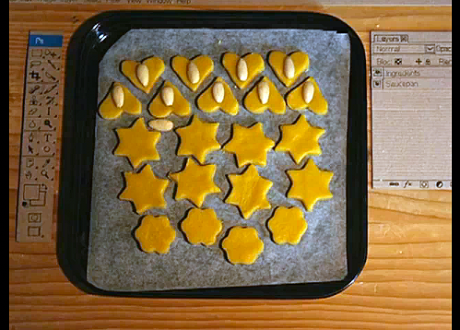 Shooting video ain't easy. Editing is even harder. Thank goodness for a good production team.
Every once in a while, a video catches my eye and captures my heart. While I obviously love food food food, food videos can become repetitive and mundane. That's why I'm so drawn to video makers that push the envelop to design unconventional food videos.
Allow me to suggest my favourite foodie stop-motion videos.
---
Food about you – Festival d'Annecy 2010
This colourful and clean video is not only fun to watch, it also stimulates the viewer's imagination about the food industry's future. Does this video depict the consequence of our continual abuse of the Earth's providence?
---
As a huge Photoshop nerd, I give miltonmunoz props for capturing the software's functions so accurately. I enjoy how this video presents the tangible cookie baking process in a contemporary, technological way. The simplicity of the materials used brings an additional charm.
---
Part music video, part pancake tutorial. I especially love how the ingredients dance around to the music. The humorous Matrix twist at the end is a cute surprise.
---
An oldie but definitely a goodie. In fact, this is my all time favourite. Hands down exemplar. I have yet to find anything as innovative as PES' use of everyday items to create the illusion of cooking spaghetti with tomato sauce. Bravo.
What are some of your favourite creative food videos? Please share below