Langley Circle Farm Tour
Posted by Jules Morgan on Friday, August 6th, 2010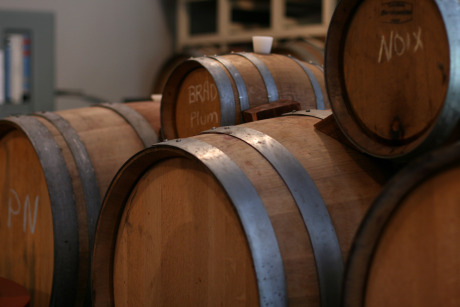 There's something to be said about spending some time in your own backyard as a tourist, to visit places you normally wouldn't think to, or stop in somewhere instead of passing by without a second thought. Although I spent my childhood and teenage years in Langley, my recent ventures back out have primarily been to visit my parents or to spend a morning in White Rock, with little opportunity (or let's face it, desire!) to head out farther afield.
That all changed in May, when I accepted an offer from Tourism Langley to attend the Langley Circle Farm Tour's 2010 Launch. Last year, fellow Foodist Karen Hamilton had attended, and the opportunity to combine my passion for food, along with some healthy curiosity about my old hometown, piqued my interest.
Krause Berry Farm, JD Farms and Erikson's Daylily Gardens
I started my adventure at The Holiday Inn Express in Walnut Grove, with coffee and the chance to meet fellow foodies and writers before we boarded the bus and headed over to Krause Berry Farm. Founded by husband and wife Alf and Sandy Krause, Krause Berry Farm has been operating for almost 35 years and boasts acres of berries: blueberries, blackberries, strawberries and raspberries. As we arrived, Alf and Sandy had set a table for us, with fluffy pancakes, complete with strawberry jams and syrups, and plates of turkey sausage from neighbouring turkey farm, JD Farms. I was blown away by the vast selection of the farm store, and although I had already heard family members rave over the pies, the promise of home-made ice cream, jams and the newest addition, fudge, was enough for me to make a mental note to come back. Alf and Sandy also host a number of tours, complete with horse carriage rides, throughout the year and open Christmas in the Country throughout December.
Jack and Debbie Froese from family run JD Farms, as well as Pam Erikson from Erikson's Daylily Gardens were on hand at the welcome breakfast were incredibly accommodating, with each speaking about their farms with passion and the dedication not only to their individual farms, but also the community as a whole. The philosophy behind each of these was simple, know your farmer and know your food.
Sept 18: JD Specialty Turkey Fall Festival
Thunderbird Equestrian Show Park
The next stop on our tour was the Thunderbird Equestrian Show Park. Situated over 85 acres, this park is the largest venue of its kind on Canada's West Coast and hosts an incredible selection of shows throughout the year, attracting talent from around the globe.
Oct 29-31: Thunderbird Showpark Fall Fest & Marketplace
Driediger Berry Farms
Driediger Berry Farms was our next stop, with Rhonda jumping on our tour bus to give an overview of the farm. As one of the largest strawberry farms in B.C., boasting 160 acres, much care as possible is taken to ensure that sprays are only used if neccesary, employing bug counters who are familiar with the surrounding farms. The fruit stand is a Langley institution, serving over 60,000 customers during peak season, and you can always choose the u-pick option.
The Fort Wine Company
Pies in hand,  we were off again, stopping in to meet Ted Bowman from The Fort Wine Company. The winery produces 150,000 litres of wine made from B.C. fruit, with all 11 wines made 100% grape free. Recognizing the importance of the farm, the winery also engages a strong agri-tourism  base. Open daily, there are a number of tours and tastings, a bistro, country store selling the wines, as well as jellies, vinegars & frozen cranberries, and my favourite, licensed picnic services. Ted also hinted at some history behind some of the unique bottle designs, based on the rumours of the surrounding bogs being haunted.
Oct 9: Fort Langley Cranberry Festival
Fort Langley National Historic Park
After driving the bus through the gates and up to the Fort itself, we were then greeted by some of the volunteers in historical costume. The Fort has a rich history in Canada, after being established by the Hudson's Bay Company in 1827 where it was the only European settlement for miles. Now a historic attraction, you can still see parts of the early farms, pan for gold and get a taste of what it was like in the mid 1800's. As part of their day to day attractions, you can also take part in fur trader weddings, just ask fellow Foodist Annika from Social Bites!
Sept 4-6: Fort Langley National Historic Site Farm Fair
Ralph's Farm Market
By the time we rolled up to Ralph's Farm Market, I was seeing my old hometown in a completely different light. The farm community in Langley is strong and established, with fellow farmers working together and sharing resources. With strong roots in Langley, Ralph's is a family run business, with fresh fruit and organic produce coming from Ralph's Farm, as well as direct from Okanagan orchards and fields. The team behind this enterprise, owners Ralph & Elizabeth Merk alongside Dianne (Ralph's sister) and Murray Redekop, were on hand to answer questions and hand out samples of ice cream from yet another famous B.C. farm.
Dec 23: Ralph's Farm Market Christmas Caroling
Domaine de Chaberton
And then, onto lunch! We pulled up to Fraser Valley's oldest winery, Domaine de Chaberton, first established in 1991 by the late Claude Violet and his wife, Inge. We were treated to a mouthwatering lunch of crêpes, followed by a tour of the winery and a chance to taste some of their signature, award -winning wines.
Full of delicious food and with bags bulging with pies, wine and jams, there were only 2 stops left to go.
Vista D'Oro Farms and Winery
For me, one of the highlights was Vista D'oro Farms & Winery. Situated over 10 acres,  the owners, Patrick and Lee Murphy have created a beautful and welcoming setting for their business with vineyards, orchards and a market shop. Dedicated to producing delicious handcrafted wines & artisanal preserves, we sampled a selection of the walnut wines in the store, before heading upstairs to the kitchen to sample mouthwatering Turkish Fig with Walnut Wine, Rhubarb & Vanilla and Green Walnut & Grappa preserves.
Braving the rain that had now developed into a steady downpour, before we left we ventured out to take a look at the greenhouse which housed heirloom tomatoes and herbs that are sold to Whole Foods and other local retatilers, and wandered around the market shop, which was stocked full of Vista D'oro Culinary products, artisanal cheeses and other local gems.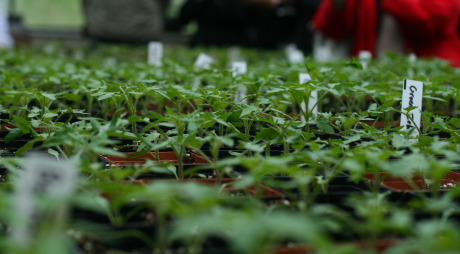 Langley Community Farmers' Market
The tour ended with the Langley Farmers' Market, held every Wednesday from 3-7 (until Oct 6). The market hosts a selection of fresh and organic local produce, cheeses, live music and artisans. I left with my wallet much lighter after being tempted by local Chilliwack honey and a loaf of sourdough from A Bread Affair.
Sept 19: BBQ on the Bypass
Full of amazing food & wine, and with arms laden down with goodies from every stop along the way, I made my way back to the city… and all I could think of was when I could do it all again. With so much emphasis now placed on the provenance of the food we eat, the Circle Farm Tours are a great place to start, offering everyone the chance to get to know the local famers and artisans. Running in  selected cities in the Lower Mainland, the tours are easy to follow and can easily be great day out.
Foodist field trip, anyone?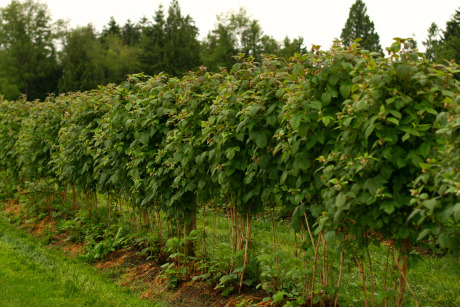 Circle Farm Tours are held in different cities around the Fraser Valley. For more information about any of the farms we visited, or to plan your own Circle Farm Tour, visit the website . Special thanks to  Tourism Langley for organizing the tour for us.