Favorite Foodists iPhone Apps
Posted by Degan Walters on Tuesday, August 31st, 2010
Tags for this Article: app, internet, iPhone, tool
Since I am very rarely further than arm's length from my iPhone – in or out of the kitchen – I've amassed several food and drink related apps. Here are some of my favorites. What are yours?
<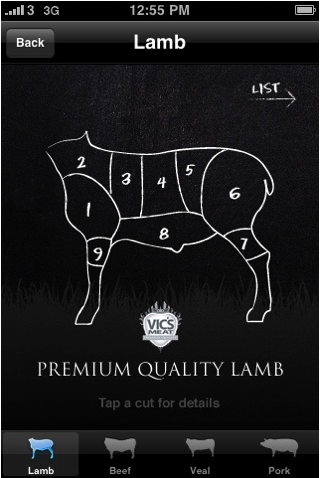 Read up on cuts of lamb, beef, veal and pork either by clicking the mapped out animal or browsing a list of cuts. The summary page gives you terms and tips while subsequent pages offer recipes and cooking tips and times. Great interface and information.
Rating: AWESOME
Cost: $1.99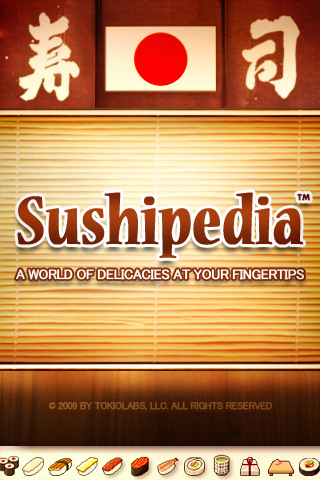 Browse the sushi dictionary and encyclopedia by name, attribute (spicy, veggie, etc.), ingredient or season or choose the "I'm feeling lucky" option for a random selection. Sushi trivia scrolls across the bottom. Great interface and information.
Rating: AWESOME
Cost: Free
Invaluable for making restaurant reservations online. Plus you get points.
Rating: Great
Cost: Free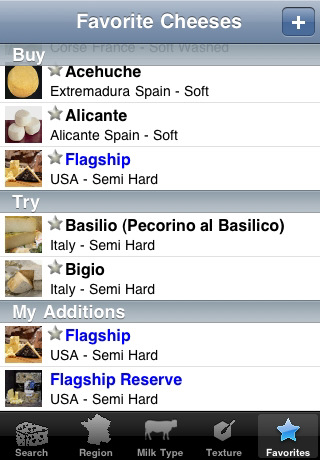 Search for a favorite or new cheese or browse the comprehensive database of the world's cheeses by region, milk type or texture. On the summary page you will find tasting notes and details with the option to add in your own notes and tag favorites. The information is good but the interface leaves much to be desired.
Rating: Pretty Good
Cost: $2.99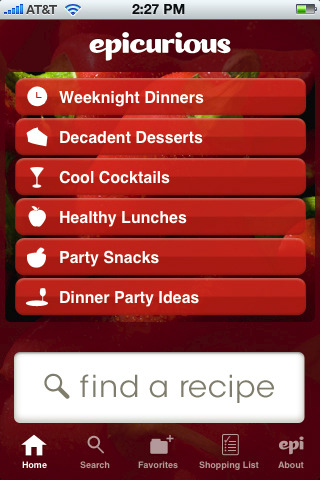 A huge database of recipes, photos and revirews (and sometimes wine pairings) with the ability to tag favorites and add ingredients to a shopping list. Searchable by meal, cuisine, diets, dish type and season/occasion. Good information and interface, but I still don't use it all that much.
Rating: Pretty Good
Cost: Free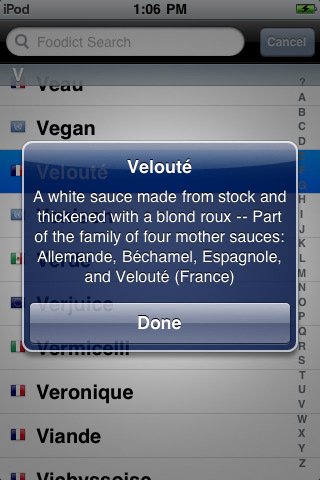 A dictionary of food and culinary terms. It's only occasionally left me hanging on a new term.
Rating: Pretty Good
Cost: $1.99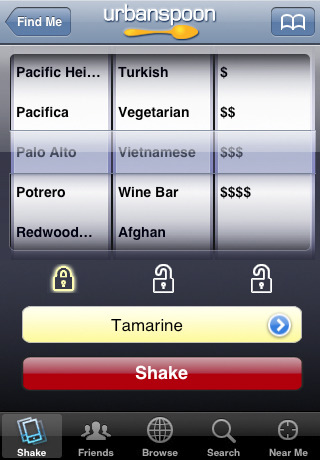 Shake to find a restaurant in your area (based on location services) or enter a city with the ability to lock down neighbourhood, cuisine and/or price. I almost never use it in Vancouver, because I always know where I want to go, but it's fun and useful for travelling. Great interface.
Rating: Pretty good.
Cost: Free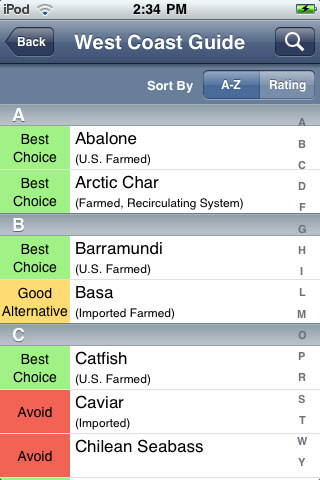 Similar to Ocean Wise, the Monterey Aquarium has put together a database of seafood that is ok to eat, divided into categories of Best Choice, Good Alternative and Avoid.

Rating: Good
Cost: Free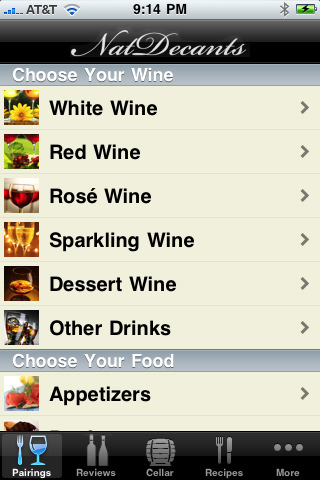 This used to have a great wine and food pairing app but it doesn't work in iOS4.
Rating: N/A
Cost: Free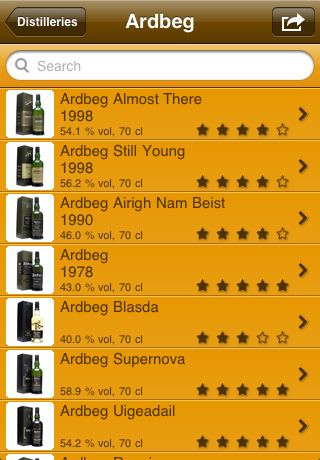 A great little app to track your scotch consumption. Search by distillery, region or whiskey or add your own with the ability to favorite and add tasting notes. Large database and good interface. I like it.

Rating: Great
Cost: $2.99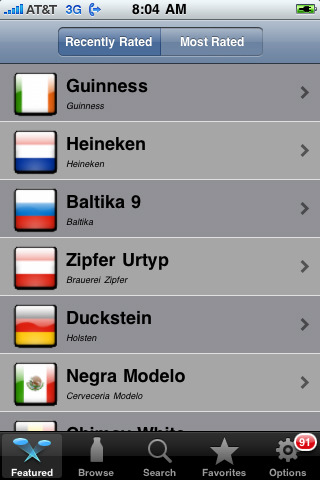 Information on 2700 beers including brewer, country of origin, bottle size and user reviews with the ability to add your own review and flag beers for Favorites, Must Try and Must Review. Search function is limited to beer and doesn't allow searching by brewery.
Rating: Pretty good
Cost: $3.99