Catch Your Own: Sockeye Fishing on the Fraser
Posted by Degan Walters on Friday, September 3rd, 2010
Tags for this Article: chilliwack, fish, locavore, salmon, sockeye, sustainable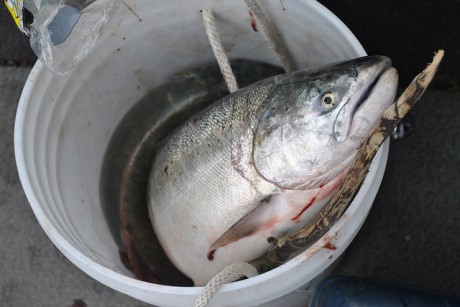 Sockeye salmon have been returning to the Fraser River in record numbers this year – the largest run in almost one hundred years – and while outdoorsy sports news is usually the type of information that makes only a small ripple in the information intake, the idea of getting out and catching my own dinner really appeals. I'm not the only one, either. Amongst Foodists, there is a strong current of DIY, hunting, fishing and foraging but even at the office and amongst non-foodie friends sockeye fever has hit hard.
25 million fish makes a big splash.
So when I had the opportunity to go catch my own, I was out the door faster than you could say "hook, line and sinker". Fishchilliwack.com has all the information on charters, fishing spots and tips and licenses can now be purchased online, so all I had to worry about was sourcing some coffee before our 6 AM meet-up.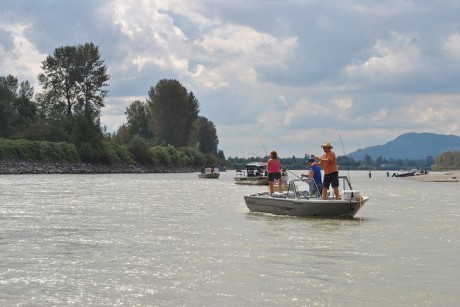 Upriver, salmon fever was in full effect, with people lined up on the banks, waist-deep in waders and on boats. Several single-engines planes even landed on sand bars throughout the day, adding another level of adventure.  Rather than being competitive though, there was a great sense of camaraderie and shouts erupted up and down the river, constantly; cheers of joy when a fish was caught and some level of cursing too, for the one that got away.
Some portion of that cursing definitely came from me. In spite of all the fish and careful casting instructions from Lang, our guide, I caught 3 sticks before I got the hang of landing a fish. But it did happen – we caught our limit of 2 each (plus 2 for the guide) in an hour PLUS a feisty spring salmon and brought in between 40-50 fish over the course of the day. The thrill was much more than I had bargained for. How have I lived in B.C. all my life and never caught a salmon? I decided right then that it's something every local should do once.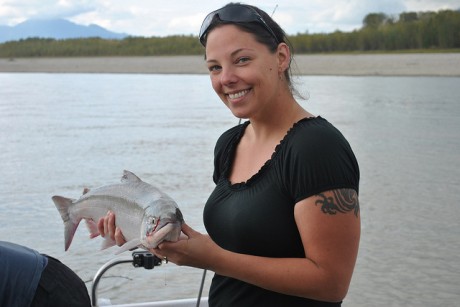 Some of the fish had bites in them, from seals, while others were a little too pink (too close to spawning) to be edible. When the salmon start to spawn, all the nutrients go into the eggs and the meat isn't any good any more, so you want the salmon to be as silver and – obviously – as big as possible.
What a lot of fun! At the end of the day my wrist and arm were burning but the cooler on the boat was filled with slippery, silver salmon (thanks mostly to the boys on the boat who had done this sort of thing before).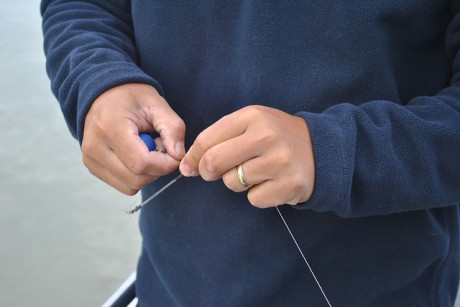 Walking home up Water Street with a garbage bag full of fish and a huge grin, I can't think of a more fulfilling day – out in the fresh air, on the water with lots of laughing and wine and ending with several delicious, sustainable dinners I am going to be very proud of. It's not everyone that has the luxury of being able to go out for a day – an hour and a half outside of the city – and catch their own dinner. This abundance is important and exciting. Fellow Foodist James Sherrett tweeted today, " I loved tonight's dinner in my bones. Sockeye caught this morning, grilled zucchini, peaches" and I can't help but agree. My freezer is full but I very nearly went back this week, just for the fun of it.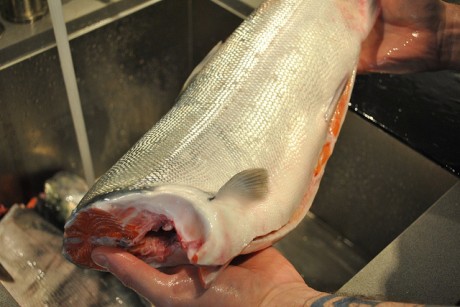 As for the eating, this one will be going on the grill in short order, to be made into Rockin' Ronnie's Cedar Planked Salmon with Whiskey Maple Glaze. The experts say that sockeye tastes best when it's slightly undercooked so pay attention when it's on the BBQ and do it quickly, over high heat. Serve it with a bottle of BBQ wine and some Chilliwack corn and you're set.
The sockeye season will be over pretty soon (maybe in a week), but fishchilliwack.com offers charters for spring salmon and sturgeon fishing throughout the winter.