The Old Man and the Sea (with video)
Posted by Ben Garfinkel on Monday, August 6th, 2012
Tags for this Article: british columbia salmon run, butchers of gastown, fishing, sockeye salmon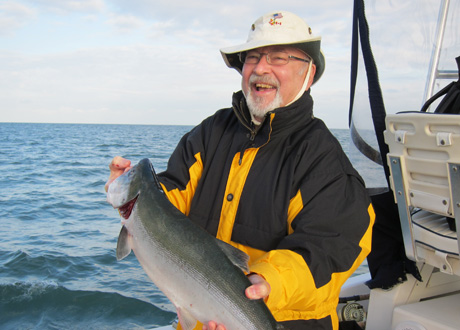 Two summers ago in 2010 it was a record year for the BC salmon run here, the best since 1913 apparently. 2010 was also my father's seventieth birthday and my brother Nathan and I wanted to get him something that couldn't end up in a giant heap of stuff in his garage eventually. Plus, the guy loves a bargain, and if you factor out the cost of the fishing expedition your kids are springing for, you are basically eating for free out of the ocean. Sweet.
Here at Foodists we have a bit of a tradition with going to the source to see where our food comes from. Last year we did a Butchers of Gastown Seafood Edition, and just recently we headed out to do some spot prawning. So fishing an epic salmon run was a brilliant precursor.
Salmon Fishing with The Foodists from The Foodists on Vimeo.
The plan was to leave super early, pre-sunrise, drop some crab pots then head out to the fishing grounds. For the three of us, plus our guide, Jason Tonelli of Pacific Angler, we had enough food and beer for a small bar mitzvah. Plus, fishing licences giving us permission to take home four sockeye each. That'd be twelve fish between us. Some good eating. We were banking on a good haul and making a meal of the crab and some salmon that night—a full-on ocean to table experience.
As with most 'family' videos, they tend to get taken and never edited into something watchable and cohesive. Thankfully, this family has a filmmaker in it. Foodists's auteur Nathan Garfinkel. So it only took two years to edit down and post here, what can we say, he has paying work to do!
The video takes you along for the ride, so no need to go into much more detail. We caught our limit by around noon. British Columbia has not seen anything like it since. A freak salmon run, the end of an era or the beginning of a new one who's to say? It is, however, very rewarding getting out past the supermarket, to the source to collect your dinner. Some might call us on not taking apart our own fish, but we ended up taking our haul to Finest at Sea on Granville Island to be portioned, some double smoked and then flash frozen.
The irony of course is, that the salmon did kind of end up piled in my dad's garage, well in the freezer anyway.