What's up Fat Boy!
Posted by Helen Fernandes on Sunday, September 12th, 2010
Tags for this Article: appetizer, cheddar cheese, Chicago, Fat Boy, French fries, godess dressing, mash potato, pulled pork, Ukranian Village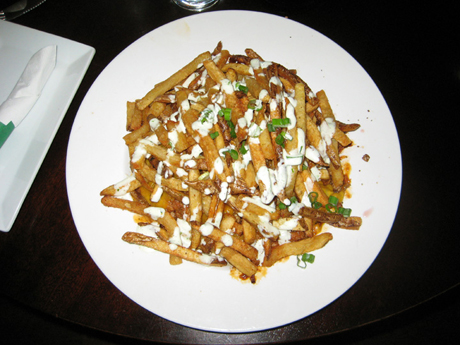 Not too long ago a friend introduced me to a little piece of heaven called the Fat Boy.  You can find it at a place called The Old Oak Tap in Ukrainian Village in Chicago. Although it is listed on the menu as an appetizer (it is a great value for $10), the Fat Boy is a carb explosion not to be taken lightly…literally; it is heavy when it is handed to you!
Jason Vandegraft and John Manion created the Fat Boy as a way to get mash potatoes off the menu (why anyone would want to do that is beyond me). The base of the dish is mash potatoes and then piled on top are: pulled pork, olives, grape tomatoes, green onion, cheddar cheese, French fries all topped with goddess dressing. Initially it seems familiar like a deconstructed version of Sheppard's Pie but once it hits your tongue you'll know it is not like any Sheppard's Pie you've had before. While the pairing of ingredients may sound a little odd, the flavors blend beautifully together.
The Fat Boy truly tastes unbelievable considering how simple it is and extremely addictive. Definitely worth a try next time you are near by.