Contest: Ryza Rice Milk Prize Pack
Posted by Alexa Clark on Monday, October 4th, 2010
Tags for this Article: contest, gluten free, rice milk, ryza, Vegetarian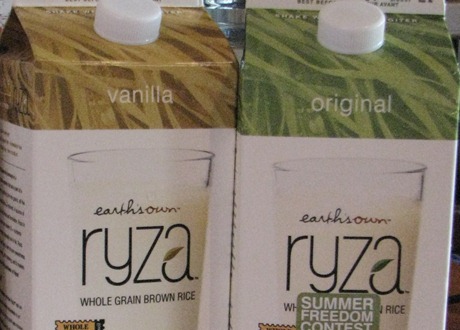 Recently a  PR company sent me a Ryza Prize Pack so I could try their rice milk. Ryza is an organic rice milk which is "free of gluten, lactose, soy, cholesterol, trans-fat and added sugar." My spouse is lactose-intolerant and my best friend has a gluten allergy, so I thought I'd give it a try.  Since Ryza also offered a second Prize Pack for the Foodists.ca community, you can too.
Milk is one of those great things in life, if you can digest it. However my spouse Gerry can not, and I've noticed over the last couple of years that my tolerance is dropping too.  Gerry is also allergic to soy, so we haven't found a milk alternative that works for us and we'd stopped looking.  It's not a big deal at our house, but it means I can't have cereal for breakfast two days in a row.  And that's kind of sad when I'm having a corn-flaky kind of week.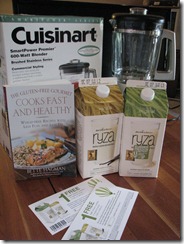 So, I was eager to try Ryza and after a fairly extensive search through my local grocery stores, I finally found it at Noah's (a Toronto-based health food store).
So far I've tried both the original and vanilla varieties of Ryza. In a glass it looks like a slightly thin, yellower milk.  Think skim milk but yellow instead of blue. If you don't shake it before serving it looks a bit like very cloudy lemon juice.
Taste and texture-wise It mimics milk fairly well though there is an extra creamy taste which doesn't quite translate into the texture. Sort of like when you over-cream your coffee. The vanilla has a nice vanilla-nose and works well in coffee.
I've used both in "milk" shakes – mango peach with the vanilla variety is my favourite so far.  I've used the original flavour mainly over cereal… oh how I've missed my 2 scoops.
Now I'm wondering what I can cook with it.  But the Ryza recipe pages are mainly for smoothies, and surprisingly the cookbook in the Prize Pack doesn't really offer many related recipes.
So here is where the contest comes in!
Enter the contest by adding a comment below offering a suggestion of things to try, cook or do with Ryza Rice Milk.
On Thursday Oct 14th, I'll randomly select one of the comments submitted below (not on facebook, not on twitter, on the blog) to receive a Ryza Gift Pack consisting of a Cuisinart blender, a copy of The Gluten-free Gourmet Cooks Fast And Healthy: Wheat-Free and Gluten-Free with Less Fuss and Less Fat, and 4 vouchers for free cartons of Ryza