Trying some non dairy alternatives
Posted by Sylvia Rigakis on Thursday, July 28th, 2011
Tags for this Article: Almond Milk, Earth's Own, foodtree, non-dairy, So Nice, soy milk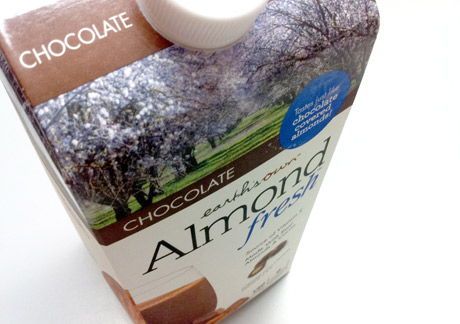 Earth's Own Almond Fresh – Chocolate
Thanks to Foodtree and Earth's Own we've received coupons to try a few non dairy products. If you'd like to try either of these for free (and/or original, vanilla or unsweetened Almond Fresh) send us an e-mail and we'll send you out a coupon.
Having tried the original version of the Almond Fresh product I decided to use our coupon for the chocolate flavour. The first sip was super sweet, followed by the taste of chocolate then almonds. I love sugar and deserts and the like, but this was much too saccharine for my taste. I couldn't imagine sitting down to a full glass. One of my co-workers agreed but the other two thought it was great and even wanted to put it in their coffee.
The side of the carton suggests putting it into a shake or baking, and there are recipes listed on their website I have used the original Almond Fresh in rice pudding in place of dairy milk and it worked out just fine. If you've got any recipes that would work with this product send them our way!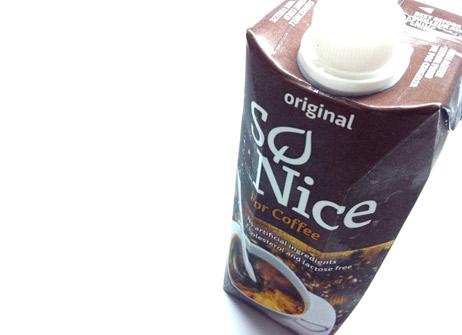 So Nice Coffee Creamer
Being a lover of coconut flavoured liquid Coffeemate, (yes it's a perverse pleasure that I can admit to) I've tried a few non dairy creamers.
This one was pretty good. It's not sweet and you can't really tell it's not dairy. However it's not as thick as dairy cream and it takes more of it to get my coffee to my desired latte shade. As well, it seems to leave a bit of a film on the top of your coffee and has a tendency to separate into weird floating  chunkies…perhaps it needed to be shaken or stirred more? I'd love to know if anyone else had this issue. And if anyone mistakes the carton for chocolate milk, being that it looks like it would be some sort of chocolate beverage.