Chocolate Arts Holiday Extravaganza
Posted by Cliff Hammerschmidt on Friday, November 26th, 2010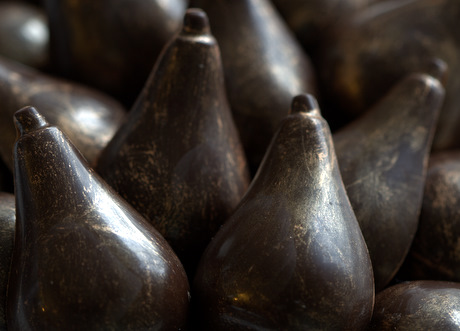 There are two major steps involved in making chocolates. The first step is preparation: buying chocolate, cream, flavourings, and base ingredients; making various flavours of fillings; tempering chocolate; making shells to fill; etc. The second step is assembling: taking the prepared elements and putting them together into finished chocolates.
That first step can be a bit daunting and time consuming. You can make it a lot easier by spending a few tens of thousands of dollars on a tempering machine, or you could sign up for The Chocolate Arts Holiday Extravaganza and let them handle most it for you and get on with the second step and make make 100+ chocolates (five different types, plus a chocolate plate). Plus you get to play with their enrobing machine, which likely wouldn't fit in your kitchen or your budget.
The Chocolate Arts production kitchen is rather small so the class size was a very reasonable seven people. Class started by learning to make a Cornet (a cone made from parchment paper) for piping chocolate. We only had to create a few before the expert helpers took over and make a bunch for us to use. We then got to sip on hot chocolate while Chef Hook walked us through making the first chocolate.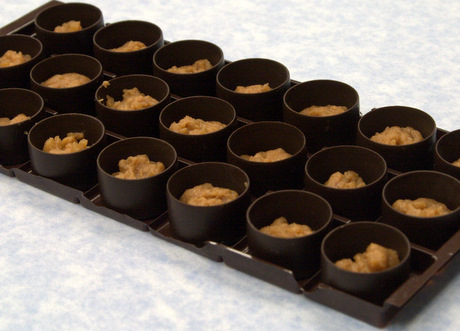 First up was filling premade shells half way with apple compote and the the rest of the way with chocolate ganache. Chef Hook gave us all tips on handling a piping bag. These chocolate were destined for the enrobing machine, so we set them aside.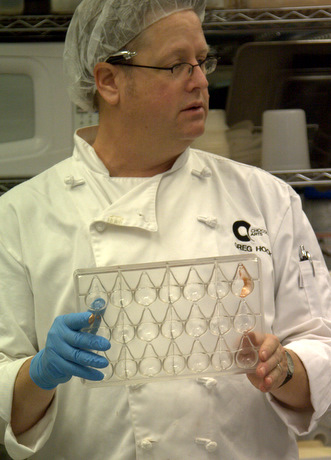 Chef Hook then showed us how to prepare a pear mold for chocolate by mixing luster dust and plain vodka to make a "paint" we could smear into the molds using our (gloved) fingers. The alcohol then evaporates leaving behind the luster dust which which created an interesting finish on the surface of the pear chocolates. These needed time to try dry so we set them aside.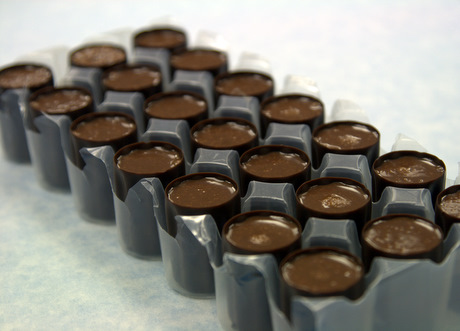 Next we got a container of plain ganache and the option to flavour it with alcohol. Choices included: Grand Marnier, 10 year old MacCallan Scotch, Cassis, house made vanilla vodka, house made cranberry vodka, and rum. Having recently been introduced the idea of pairing scotch and chocolate, I decide to go with the scotch and lots of it. We filled a taller premade shell, leaving a little room for the cap, and set it aside so the ganache could set up a bit before we capped the shell.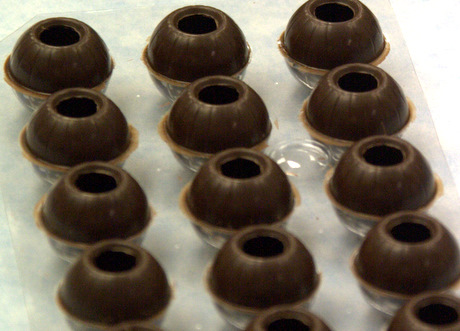 Now, have you ever wondered how they get those perfectly round truffles you see in the stores? Turns out you can buy premade hollow spheres with a quarter inch hole in the top ready to receive whatever filling you like. We used caramel to fill these. Once they are filled we pipe a small amount of tempered chocolate over the hole to seal them up.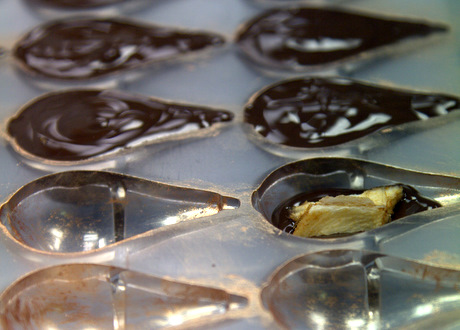 The pear molds are now dry so we fill them with our choice of dark or milk chocolate, placing dehydrated pear in the center of the chocolates. These then go of to the fridge to set.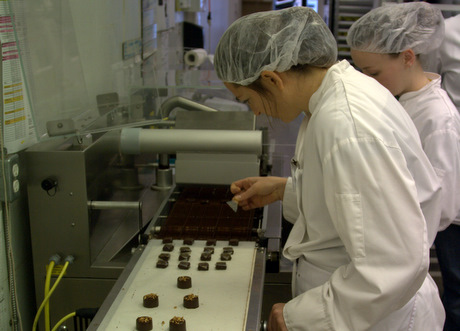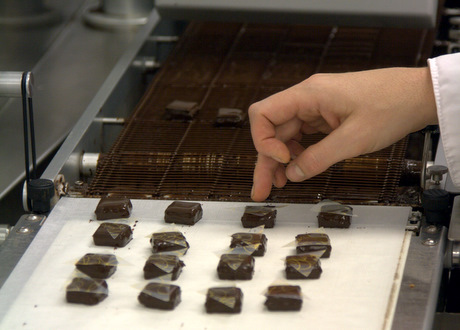 The class then split into two groups. The first group stayed with Chef Hook while the second group uses the enrobing machine (under the guidance of an assistant) to finish off their apple chocolates and to enrobe a passion fruit slab ganache that had already been cut into small squares. Precut transfer sheets were used to place a design on the passion fruit squares.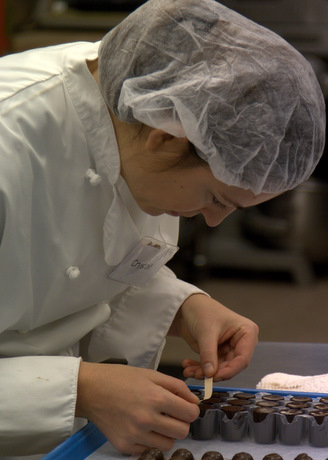 To finish off the liquor/ganache chocolates we piped chocolate into the top of the shell to "cap" it. Once this was set we pressed a band of gold leaf onto the cap. The caramel spheres were rolled in tempered chocolate and sprinkled with a choice of toppings. I chose to use a mixture of ground cardamon and sea salt.
The final Chocolate creation is a plate made from pre-cut chocolate pieces that we "glued" together using tempered chocolate and then attached a chocolate holly leaf to with some some dried cranberries as faux holly berries.
Chocolate Arts kindly provided three boxes with tissue paper to pack up all of the creations for transport home. (This is the first cooking class I've taken where the school provided some kind of packaging for the end result.)
The end results:
21 x Chocolate Apple
21 x Chocolate Scotch
21 x Caramel (with sea salt and cardamon)
21 x Chocolate Pear
20 x Chocolate Passion Fruit
1 Chocolate plate to display your chocolates on.
If you really want to learn how to do everything from scratch I encourage you to do so, but if you're looking to have some fun and let someone else deal with the tricky task of tempering the chocolate and preparing the mis-en-place, this is the course you should really consider.
For more information see the Chocolate Arts website.