What to spend your xmas money on
Posted by Ben Garfinkel on Tuesday, December 28th, 2010
Tags for this Article: Bon Appetit Desserts, chocolate, cookbook, dessert, speculaas, sweet tooth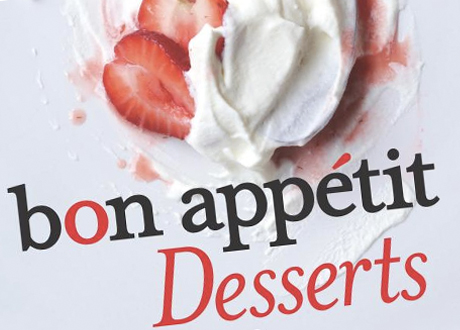 Okay, so you didn't get everything you wanted, got some cash and haven't totally overdone it on baked goods. What to do? How about a copy of Bon Appetit's latest tome, Desserts?
Even if you don't have a sweet tooth, you can use this weighty cookbook to press dried flowers. Kidding of course, sort of. The dilemma of a book like this for a person afflicted with a sweet tooth like myself is where to begin? At once this is an exciting book with so many options and possibilities and a little depressing because even if I abandoned every other cookbook I own and focused on this one, I'd be dead before I could get through half of these recipes.
So, my feeling is that books like this offer up a great go-to resource for when you are looking for a specific recipe, or need a special dessert or treat because you're sure to find something hiding in its almost 700 pages. There are over 600 recipes sprinkled with photos, tips and step-by-step illustrations throughout.
In fact, it's the tips and techniques that are the sort of thing you'd want to actually read this book for. For those of you who like Cook's Illustrated you know what I mean.
Need to know the difference between crème brûlé, flan (crème caramel), fool, mouse, panna cotta, parfait posset and pot de crème? That's on page 337 in the Custards & Puddings section. If you are wondering, a fool is not someone who attempts a recipe beyond their skill level. The writing is accessible, and there's even the familiar Bon Appetit 'whisk' rating system. Actually, it wasn't until I'd read the inside cover flap that I realized the whisks rated difficulty, not popularity.
A quick scan of the four-whisk rated offerings had me drooling for the Apricot-Pistachio Torte with Honey Buttercream and the Baklava Cheesecake, and I don't even like cheesecake all that much. So, if you are into cheesecake, here's a way to really do something a little unexpected with it. Let me know if you try that one.
Once I recover from the sugar overdose that is Christmas, I have zero'd in on one particular recipe I will try first: the three-whisk rated Speculaas Tart with Almond Filling (page 286). Must be my partial Dutch heritage and love affair with marzipan. Seriously.
It is interesting to think about how one can ultimately decide on a single recipe to start with in a book this substantial, or any book. It must be a factor of circumstance and craving combined with immediate need (as in, I have to bring something chocolate to a party) and sense memory. I've always liked gingerbread, but find the softer texture and subtlety of the dutch version that much more sophisticated, and the almond takes it up many notches. I've bypassed the rather appealing and ultra-chocolatey cakes with fleur de sel-caramel filling, etc. Great as that is, it feels a touch overdone these days. I'm interested in finding less automatic crowd pleasers—recipes that are unexpected and delight because they don't carry the expectation of being awesome at first glance.
So, digest this book however you please. It'll definitely inspire you to break out the flour, sugar, chocolate, under-utilized candy thermometer, parchment and cookie sheets. It's probably not a book you'll be taking to bed to read, but that's not a strike against it. It would be a cool if books like this started showing up as iPad publications—that would surely fulfill my need to collect cookbooks and my wife's desire not to have her garden book shelf space encroached upon!
There's a bonus worth mentioning too: the book has a coupon you can redeem for a full year's worth of Bon Appetit magazine (12 issues). Makes it almost a no brainer, even if you aren't a sweet tooth.