Here piggy, piggy…
Posted by Helen Fernandes on Saturday, January 8th, 2011
Tags for this Article: Bon Appetite, Chicago, donut, eggplant, gastropub, octopus, Purple Pig, ricotta cheese, salsa verde, tapas
New restaurants seem to open every other week in Chicago with gastropubs leading the way. Some seem to frequently make the restaurant "hot list" in the local reviews, but one of my favorites, even though it was voted one of ten top new restaurants in America for 2010 by Bon Appetite, often gets overlooked. The Purple Pig in Chicago made my mouth water the very first time I walked through the door.
Servings are done tapas style and while they are notable for cheese, swine and wine as is their logo suggests, it was their octopus that kept me up at night (until I could go back and eat it again). Don't get me wrong, their cheese is lovely, the wine list is tremendous and the pig is decadent, but the octopus…well it is like no other. Buttery soft generous pieces of grilled octopus arms served atop green beans, fingerling potatoes with a gorgeous salsa verde. The octopus is not at all chewy but more along the lines of the firm softness of bocconcini cheese. It hits your tongue with a meaty, smooth texture and a lovely smokey flavor. The sharp tart citrus of lemon compliments the mint and herbs in the salsa verde so perfectly that the taste lingers on your tongue beckoning for more.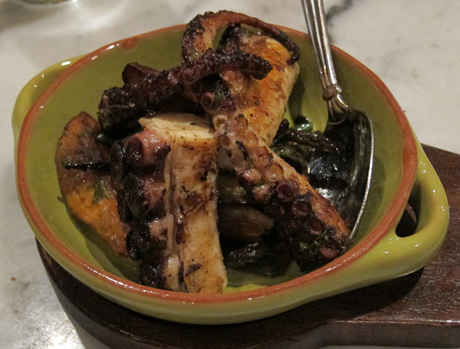 Another stand out dish was the eggplant caponata with whipped goat cheese. Their own spin on the Sicilian specialty includes eggplant, tomatoes, small grapes and pine nuts made into a warm relish served with toasts of Tuscan bread spread with whipped  goat cheese. Hearty and tangy, the caponata is so tasty on top of the toasts and mixes well with the smooth goat cheese and crunchy toasts. Perfect for the cold weather of Chicago.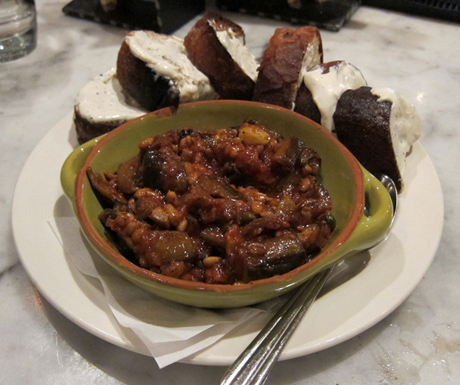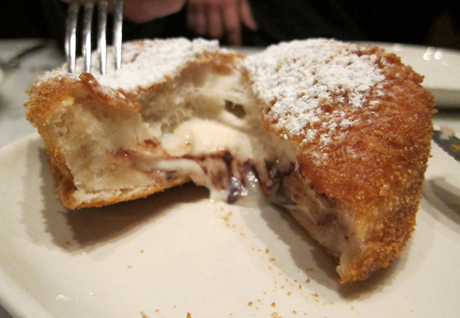 We ended with a decadent dessert called the Sicilian Iris. From the outside it looks like a large donut ball that as been dusted with sugar. Gently cut the crunchy outer shell open and out oozes wonderful warm ricotta cheese laced with chocolate chips that are slightly melted from the heat. So warm and gooey, it is sweet without being too sweet. A perfect ending.