Zantac Chili Challenge
Posted by Degan Walters on Friday, January 28th, 2011
Tags for this Article: Anthony Sedlak, chili, chili con carne, competition, contest, Dirty Apron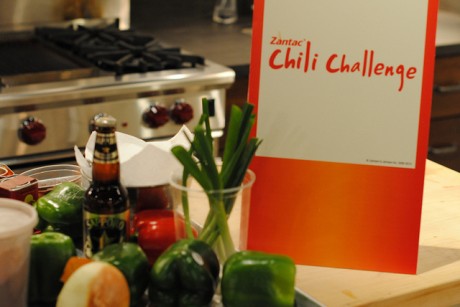 Last week the Dirty Apron cooking school was filled with the smell of chilies, beef and a little friendly fire. The Zantac Chili Challenge semi-finals were on and three competitors were on hand to prepare their special recipes for judges by Anthony Sedlak, Rebecca Bollwit and Erin Ireland.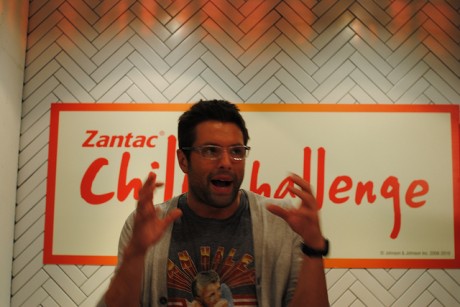 T.V. host Anthony Sedlak introduced the contestants – Laurie, Jennifer and Pierre – who had been on site since 7 AM to make their signature chili dishes and secret ingredients. Surprisingly (to me, anyways), none of the recipes included beans. Pierre told me that "beans were introduced by the army as filler" and they are even banned in more serious competitions.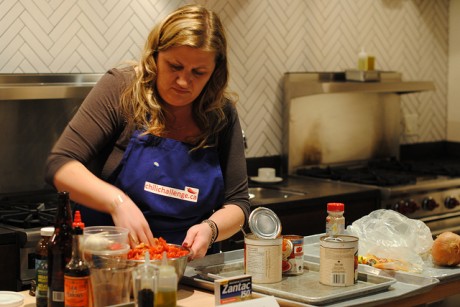 Finally it was time to taste. First up was my favorite – Pierre's "Don't Mess with Texas" chili (recipe is below), made with marrow bones and beef. Jennifer's "3 C's Chili" combined coffee, chocolate and chipotle with a coffee and spice-rubbed beef tenderloin added at the finish and finally Laurie's "Jubilee Whiteout".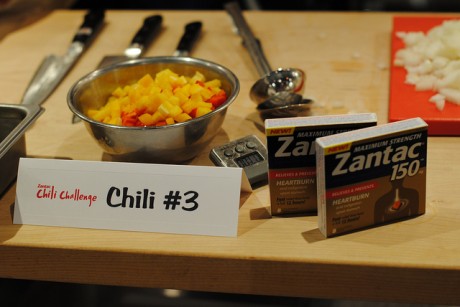 The judges deemed returning champion Laurie's dish to be the best so she is off to Toronto to compete in the nation-wide finals.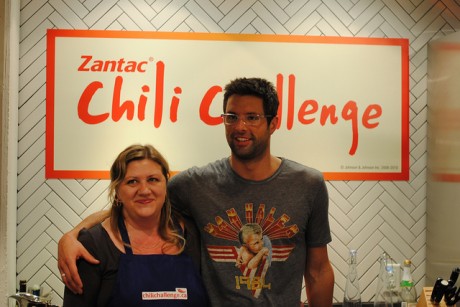 Pierre's "Don't mess with Texas Chili"
In the pot:
4 onions, cut into 1-inch chunks
8 bell peppers (assorted colours), seeded and cut into 1-inch chunks
2 red hot chili peppers, finely minced, seeds and all
1 pound of marrow bones
4 pound inside round free-range roast, cut into 1-inch dice
grapeseed oil for frying
Spices:
2 Tbsp cocoa powder
1 Tbsp chili powder
1 tsp sweet paprika
1 tsp smoked paprika
1 tsp kosher salt (more to taste if needed)
1 bottle of beer (optional)
water to cover (there is so much flavour that all you don't even need to use stock)
Garnish:
500 ml sour cream
buncha green onions, sliced thin
buncha cilantro, rough chopped
1. Preheat oven to 350?F.
2. Get yourself a large dutch oven or heavy bottomed pot on the stove. Whichever you use make sure it has a nice tight fitting lid.
3. Crank up the heat to medium high and let the pot get hot for 5 minutes before you put anything in the pot.
4. Once the pot is nice and hot, pour in some cooking oil and the onions right away. Don't move em around too much or they'll never get brown. Cook them until they get really nice and dark brown.
5. Take the onions out into a large handy bowl.
6. Add some more oil and brown the peppers. When they are brown take them out and transfer to the bowl with the onions.
7. Add half the cubed beef in a single layer and cok until they become super brown (almost burnt) on one side. Transfer to the handy bowl.
8. Finish browning the remaining beef in the pot. As soon as one side is nicely browned (almost burnt) you can add back the cooked onions and peppers.
9. Sprinkle on the chili powder, cocoa powder and chipotle peppers. Top with marrow bones. Add the optional coffee and/or beer and top off with water until it reaches half way up the marrow bones that are sitting on top.
10. Put the lid on and place into the oven to cook for 3 hours.
11. Take the lid off. Using tongs and a little spoon, pick up the marrow bones and scrape any of the remaining marrow into the pot and discard the bones.
12. The meat should be nice and tender, the chilies and onions should be practically falling apart and the marrow should just be melted into the chili making a nice rich consistency. Taste and add salt if needed.
13. Serve in a tin cup with a spoon and some thin sliced green onions, rough chopped cilantro on top and some sour cream to cut the heat.
For Foodists' most popular chili recipe (Bullshit-Free Moose Chili), click here.