Bullshit-Free Moose Chili Recipe
Posted by Mark Busse on Friday, September 25th, 2009
Tags for this Article: bullshit, chili, mark busse, moose, recipe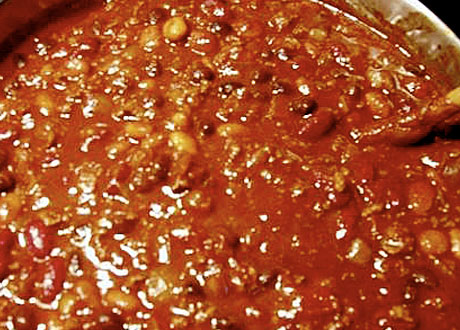 Everybody and their uncle has their special chili recipe, and they all swear theirs is the best. They all claim to have a secret, be it an unexpected ingredient or some special cooking technique.
Well, to that I say bullshit.
Of course there are some basic parameters for any chili recipe, and innumerable regional variants, but I believe everyone should experiment with chili and use whatever they want. Sometimes you'll want to add chocolate and coffee for complexity and depth. On occasions you'll want chili for dinner that night and won't be able to simmer on low for eight hours, patiently waiting for the perfect texture. And not everyone keeps fresh, whole poblano chilis in their pantry, so dried anchos will have to do (did you know that a dried poblano is an ancho? Same chili!). Don't even get me started on the sin of ruining an old style Southern chili by adding beans—if you like beans, by all means add beans!
Many will disagree, but I love the taste of game. The "gamier" the meat, the better. But in a strongly-flavoured dish such as chili, I think stronger flavoured meat helps give it some life. Not much of a secret ingredient, but it's how I like to do it. So, recently when a group I belong to hosted its annual summer BBQ, I volunteered to make a pot of chili using some moose meat offered by Foodists' own metrosexual Albertan hunter extraordinaire Todd Smith. As I started browning and mixing and simmering, it occurred to me to jot down the basic measurements and steps and share it with you here (also for my personal future reference in case it worked out well). I'm glad I did and happy to share with you my "Bullshit-Free Moose Chili Recipe."
Note before you begin: I was making a huge vat of chili for a big group, so I doubled the amounts below and fed a few dozen with small servings, but this recipe should give you a medium stock pot full of hearty chili. But the proportions and methods hold true regardless of how much you're making.
Ingredients (don't panic, it's not that much stuff)
Meaty stuff
1.5 lb ground moose (beef, lamb, venison, elk, or horse work too—yes, I said horse)
1.5 lb cubed moose
1.5 lb cubed pork (I use fatty pork for flavour—no point avoiding calories if you're eating chili)
3 rasher smoked maple bacon, diced (any bacon will do really)
Veggie stuff
2 large (or 3 medium) white onions, roughly chopped
1 bulb garlic, minced (yes, the entire bulb—trust me)
4 chopped chilis (I used poblano and california, but you can use ancho, jalapeño, Anaheim, etc)
3-4 x 15 oz cans of kidney beans (though many will argue that "real" chili has no beans! Whatever.)
3 red & yellow bell peppers
I suppose you could add carrots and celery to this recipe, but I didn't this time.
Wet stuff
2 x 10 ounce cans diced tomatoes
3 x 6 ounce cans tomato paste
1 cups brown sugar
2 cans dark beer (I used Brooklyn Black Chocolate Stout)
2 cups strong black coffee (I made espresso)
2 ounces tequila (uh-oh, is that my secret ingredient?)
2 cans chicken broth (I used low sodium organic stuff. You can use beef broth for a more meaty flavour, but I wouldn't with moose meat)
Spicy stuff
3 tablespoons toasted cumin seeds, ground (this should be done fresh)
1.5 teaspoons toasted coriander seeds, ground (this should be done fresh)
1.5 teaspoons dried oregano
3 tablespoons ground ancho chili powder
1 tablespoons dry mustard powder
1.5 tablespoons cocoa powder (or you could drop in a bar of quality semi-sweet chocolate)
1.5 teaspoons cayenne (this is for heat, so adjust to your liking—go slow, you can add more later)
2 teaspoons salt & pepper (adjust to taste at the end)
Directions:
The first thing I always do in hobby chef situations like these is get all my ingredients ready (known by poncey cooks as "mise en place"). And if you're making a huge pot of chili, this is going to literally dominate your kitchen, so get sorted now or you'll regret it later.
The first step is to brown your meat. If you're making this much chili I recommend doing this in batches, though you may try doing this directly in your stock pot. I usually don't though as it tends to steam the meat more than caramelize. And let's get something clear here, you're not "sealing in any juices" when you're searing meat. The browning is for flavour, texture and colour, nothing more. Anyone who tells you otherwise—including TV chefs—is full of crap. I like to season my meat with some salt & pepper and a light dusting of flour and add it to a large pan with hot canola oil. When it's golden brown, set it aside and do another batch until you're done. Take your time, enjoy the process, and do this right.
Next fry up your bacon until just starting to crisp, then add to this the onions and garlic and sauté until starting to soften. Smell that? I know, right? You should be able to do this right inside your stock pot and start layering on ingredients as you build up your chili sauce. Once starting to brown, add the diced tomatoes, beer, coffee, tequila, tomato paste, and chicken stock. Add in your browned meat and stir. Starting to look like a chili already? Calm down, we're not done yet.
Now add your chillies, various spices and brown sugar. And remember that if you don't toast your dry spices and grind them in a mortar and pestle, Rockin' Ronnie will hunt you down and slam you with a rack of his award-winning ribs. Let this simmer for an hour to mellow and add a couple cans of kidney beans, but save the rest for later—I'll explain in a minute.
As tempting as it is to start spooning this into bowls at this point, don't. Once brought to a low boil, turn the heat way down and let simmer as long as you can. I left mine overnight, no kidding. I did most of the work late one evening and let it simmer until I got up the next morning. The reason you haven't added the remainder of the beans or the bell peppers should be obvious at this point—they'd be mush by now.
The final stretch is easy. Bring your chili back up to heat and add the remaining beans and chopped bell peppers (they add some great texture and colour). Adjust for heat by adding a bit more chilli and cayenne at this point—and don't get all sheepish now. I say if you like your chili spicy, then make it spicy. But I always have to be aware that my tolerance for heat is higher than most, so I hold back a bit.
You'll really only need another hour or so before it's ready to serve and I'd suggest avoiding over-stirring at this point to keep things from disintegrating. If you'd like your chili to be a little thicker at this point—cheat! Make a slurry with flour and warm water and add slowly during the final hour. Don't add too much mind you, you'll know when it's enough. Another option is to add potatoes to your chili, but that's called a stew!
You can serve on its own (my preference) or with cheese and sour cream, but the point is to enjoy. Do it your way. Regardless of how you augment or adjust this chili recipe, it will work for you. Your guests won't be disappointed.
That's it! Now, if you've read this and think this all sounded too complicated—shaddup. Pull up your big boy pants and do it your way—there is no secret, remember? Just variants on a theme. A thick, hot, spicy, meaty, delicious theme. Experiment with this and tell me how it worked out. Or better yet, send me some and I'll tell you!
Oh, one last tip: make tons of chili at once and freeze dinner-sized portions for future use. It'll keep well for months and taste just as good (or even better) re-heated.