Lychee Ginger White Tea Poached Asian Winter Pear
Posted by Mark Busse on Thursday, February 3rd, 2011
Tags for this Article: chinese, dessert, Nathan Fong, new year, Pear, recipe, tea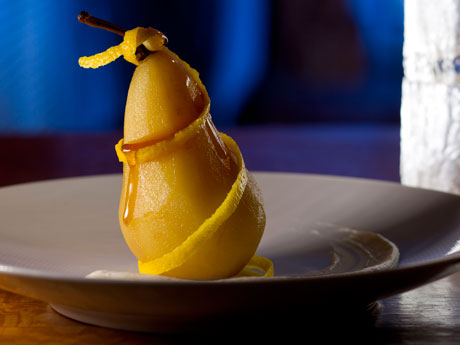 The last of our unique Chinese New Year recipes created by Vancouver's Chinese food guru Nathan Fong is a dessert of Asian winter pear poached in lychee ginger white tea and served with a delicious chocolate spice infused cream. Happy new year indeed!
The ancient Chinese believed that pears were a symbol of immortality and prosperity as the trees lived for a long time. Chocolate, although not related to Asian cuisine, is popular everywhere. Chocolate spice tea is infused into heavy cream and whipped, to give it a mild scented chocolate flavor…without any real chocolate added at all! I've poached the pears in a heady scented Lychee Ginger White Tea, which transforms the simple pear to a luscious dessert, paired with the "chocolate" scented cream.
Tea Poached Asian Winter Pears with Chocolate Spice Infused Cream
2 cups water
3 sachets Four O'Clock Lychee Ginger White Tea
6 firm Asian, Barlett or Bosc pears
¾ cup sugar
One 2-inch piece of fresh ginger, thinly sliced
Peel of half lemon and half orange
1 cup whipping cream
2 sachets Four O'Clock Chocolate Spice Tea
1 tsp maple syrup
½ cup low fat French vanilla yogurt (optional)
In a saucepan bring the water to a boil, more from heat and add the Four O'Clock Lychee Ginger White Tea sachets and steep for 5 minutes. Peel the pears. Place the tea, sugar, ginger and peels into a saucepan large enough to hold the pears in a single layer.
Over medium heat bring the mixture to boiling point, or until the sugar has dissolved. Reduce heat to simmer, add the pears and cook for about 20 to 30 minutes, turning occasionally to evenly cook. Remove from heat then allow pears to cool in syrup, cover and refrigerate.
To make infused cream, in a small saucepan, add the whipping cream and bring to boiling point. Remove from heat and add the Four O'Clock Chocolate Spice tea sachets and steep for 10 to 15 minutes or until fragrant. Squeeze out sachets and discard. Cover and refrigerate until cold. Pour into a chilled mixing bowl, add maple syrup and whip until stiff peaks. Fold in yogurt, if using, until well mixed.
To assemble, remove pears from poaching liquid, drain well, and place one in a chilled serving dish. Drizzle each with some of the poaching liquid and garnish with dollops of the cream. Option: the poaching liquid can be reduced by simmering, to make a thicker syrup. (Serves 6)
Gung Hay Fat Choy!
Nathan Fong