"Like a big pizza pie – That's Amore!"
Posted by Erin Mussolum on Sunday, March 13th, 2011
Tags for this Article: nicli, pizza, wood fire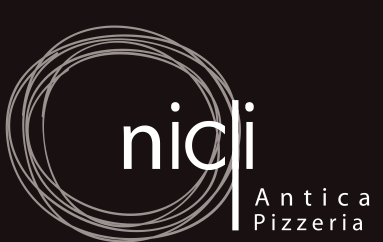 When the moon hits your eye like a big pizza pie – That's Amore!
It was Friday night and in typical Vancouver style it was pouring. Armed with my umbrella I hailed a cab with the final destination of Nicli Antica Pizzeria.
I had been following the launch of Vancouver's newest pizza joint for a while now on Twitter.  From my foodie followers I heard that they make authentic wood fired Neapolitan pizza and the reviews were all positive except for one. The negative one was something about how long you had to wait to get in. To me – that's positive.
I get excited about trying new things and tonight I had set myself up with a double whammy. I was actually on a blind date, so not only was I about to meet a stranger, I was also going to potentially fall in love with a new pizza place.  The thought of both made my heart skip a little.
I'm a pizza connoisseur. You know when people ask you what your last meal would be…for me, hands down, it's pizza.  I know what I like, and if it disappoints I feel royally ripped off.
I met my date at the bar, and considering it was still early on a Friday night, the place was, as predicted, jammed. Every table was full and every place on the bar was too. It was standing room only.
My date and I enjoyed a drink, got acquainted, and I stole glances at my new love. The space at Nicli is gorgeous. Not typical of rustic pizza places, the interior instead is stark, with white and chrome; minimal yet effective. Plates of pizzas arrived and became like little paintings displayed against the backdrop of the white table top.
When our table was ready we had the sincere pleasure of being served by Nicli's Wine Director Matthew Morgenstern.  Under his passion and direction we started with the Misto Olives.  These were a selection of warm green olives in a shallot herb marinade. Morgenstern suggested an appropriate wine pairing and soon a white Argolias Vermintino arrived at our table. It was delicious, crisp, and cut through the salty fennel flavour of the olives.
Damn, this wine guy knew his stuff. He then suggested we share two pizzas the Capricciosa, and the Proscuitto Crudo.
The Capricciosa is definitely a "man" pie. It was loaded, yet impeccably balanced, with pomodoro, parmigiano, fior di latte (mozza), proscuitto cotto, artichokes, funghi, black olives, and then finished with a beautiful basil leaf drizzled with olive oil.
I truly enjoyed the Proscuitto Crudo.  I'm fascinated with dishes that use only simple ingredients yet seem to burst with flavour. This wood fired pizza had pomodoro, parmigiano, fior di latte, basil, and prosciutto crudo. Five ingredients of perfection!
Now a pizzeria review would not be complete without spending a little time on the crust.  The joint uses only '00' Italian flour and the dough is made and left to "hang out" for 24 hours before it is hand rolled.  Now, according to pizza experts the sign of a bubbly crust is when it has been hand tossed. Not so at Nicli. There is no hand tossing yet the crust is doughy, bubbly and, well, perfect. They get an A.
In the end neither my date nor the pizza disappointed. Both were exceptional. And I did fall in love. I fell in love with Nicli Antica Pizzeria.
And the guy? I'm betting there will be more Nicli in our future.
Nicli Antica Pizzeria is located at 62 E Cordova St in Gastown.
Twitter @NicliPizzeria