Peruvian Provenance: A Trout Lunch in Lucre
Posted by Steve Mynett on Wednesday, March 30th, 2011
Tags for this Article: Cusco, lucre, lunch, Peru, providence, south america, travle, trout
In Peru, as in the case in Vancouver, provenance of what's on your plate can be hard to track down. A fantastic meal at a great restaurant such as Astrid y Gaston can lull me into a state of ambivalence but these considerations are important whether you're eating at a great restaurant or a road side stand.
The bread that you buy at the mercato may be from a town 45 minutes away transported by a 50 year old truck spewing omissions or that "fresh local" cuy is actually raised in Arequipa and frozen on site before transportation.
To be honest the thought of provenance hadn't been on my mind much until on my last day in Cusco friends offered to take me for some fresh local trout. We boarded a local bus for a trip to Lucre, a town an hour our of Cusco.
The bus ride was a story to itself (there was a box of chickens in the seat behind us and we were the only gringos in sight) but we got off in what was a small rural town seemingly untouched by modern life save the obligatory Coke signs on some of the buildings we passed. The one road in town lead up the hill and along the river. My companions had been to this restaurant before so we meandered up beyond the river, crossing a rickety man made bridge before arriving at the restaurant.
Unlike other restaurants I'd been do, this restaurant was void of many of the typical things we've become accustomed to. (fridge, separated kitchen and dining room etc) There were a few ponds filled with trout fresh from the river, an old clay oven with old pots and some table and chairs under a thatch roof.
For S./ 30 (or around $10) we got to catch our own trout (granted with a fishing net from a pond) and they would either grill or fry it up. Everything served, with the exception of the drinks, was grown locally on the property; onions, tomatoes, potatoes etc.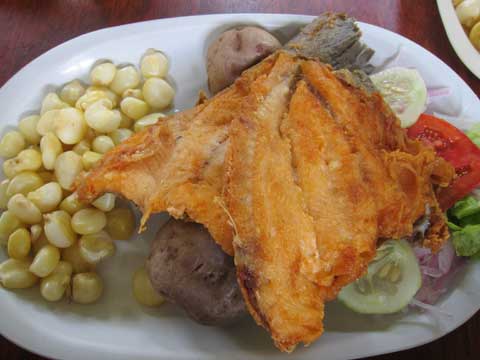 The meal, apart from being fantastic, was surreal due to the surroundings and I didn't fully appreciate it until reviewing the experience and photos later; I just got lost in the moment and accepted this as commonplace which for some it is. At the time it seemed like a natural activity for a Saturday afternoon and I could account for everything that was on my plate. The fish was pulled from the pond 20 minutes before it was on our plate and the vegetables were likely harvested either that day, or the day before.
An hour bus ride returning to the city and I was back in my familiar environment. The stream, field and mountains surrounding the restaurant seemingly a life time away.
View more photos from this meal on Flickr. Co-posted on my own travel site.