Rumour Alert!
Posted by Denise Boyle on Wednesday, March 30th, 2011
Tags for this Article: butcher, commercial dr, meat, neighbourhood, organic, ranch, shopping, sustainable, vancouver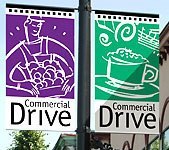 Commercial Drive is one of the best food shopping neighbourhoods in Vancouver – I know people who come here regularly from other parts of town to take advantage of the prices and the great variety.  There are numerous places to find fresh fruit and veg, both organic and conventional, cheese counters, bakeries, family delis, shops for hard to find international ingredients, free range chicken and, most recently, sustainable seafood.  As great as this list is, there is one thing missing:  a butcher. 
Happily, that is about to change.  Commercial Drive is finally getting a butcher.  And not just any butcher, but one that sells meat from a certified organic, bio dynamic, family run ranch.  The location is the same as the short- lived Controversial Kitchen at 1420 Commercial Dr., a restaurant which also sold the Pasture to Plate  meat that will be the focus of the new store. 
 The restaurant / meat shop combo never really made sense to me, but a butcher shop could do really well in this location.  With little competition in the area and a great new fishmonger next door, they could have a very successful business on their hands.  The opening date is still a mystery as my sleuthing skills (ie: phone calls and emails) have not yet been returned, but I will update this post if I hear anything.