The British Butcher Shoppe Ltd.
Posted by Matt SamyciaWood on Friday, July 3rd, 2009
Tags for this Article: butcher, English, meat, sausage, scotch eggs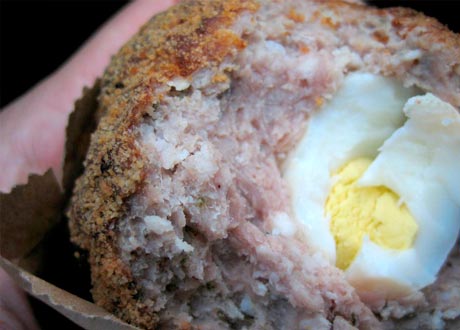 I'm a Yorkshire lad (pronounced York–sha) born and bred. Grew up eating scotch eggs and lard sarnies with crisps (chips) for Saturday (pronounced Sat-day) tea (evening meal).
So when I learned there was a British Butcher in town selling delights of my culinary childhood I was excited to visit.
The shop is located in North Vancouver (703 Queensbury Ave), a little off the beaten track, but is easy to find if you have a map. As soon as I walked in I noticed that it sells lots of meat products, pies as well as condiments and sweets (candy) from the mother land.
I was like a little kid who had been transported to their English youth. They sold Hula Hoops, which are crisps  in the shape of a band (like a wedding band) that you put on all your fingers and then bite them off. They sell English Mustard, like no other in the world. If you like wassabi you MUST try this, it's amazing (my mum always brings me a jar from England when visiting).
They sell 36 different varieties of sausages. It was difficult to choose but I decided to be patriotic and buy the Yorkshire variety.
Then there was why I went, I had a craving for a Scotch egg. Put simply, imagine a circular lump of cooked sausage meet with a hard boiled egg in the middle, covered in bread crumbs, this is a Scotch egg. It was absolutely amazing. Great flavour and consistency, good quality meat, and was big enough for a small meal.
The one thing you realize when you visit the shop is how great the quality is of the products. On the website they say "we have found that it is not worth cutting corners to meet the demand as our customers have come to expect a high quality product".
The website could do with a wee polish, but the food is first rate. Go there and spend lots and eat lots and then tell me how great it was.