My bastard love pizza
Posted by Matt SamyciaWood on Wednesday, April 6th, 2011
Tags for this Article: pizza, recipe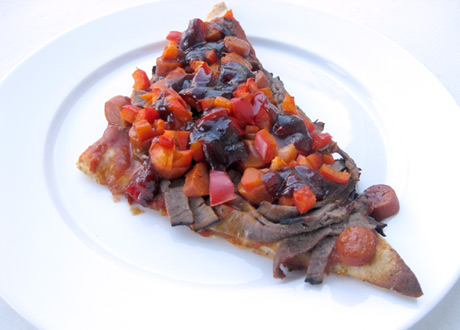 Some people will be disgusted with this pizza but I'm ok with that. For me cooking is about experimenting and this pizza certainly combines many different types of foods; in fact if Frankenstein ever gave birth to a 'bastard love child pizza' then this would be it.
You know on those nights where you don't quite know what you want to eat. Or those nights where food is on the verge of going expired and growing some mold fuzz. Well this pizza was the result of both of those scenarios clashing head on resulting in one strange but surprisingly tasty meal.
Here are the ingredients:
Gluten free pizza base
Italian spaghetti sauce
Sliced English roast beef
Spicy Portugese Chorizo sausage
Red peppers
Chinese Hoisin sauce
Mexican hot chili sauce
What do you make that others would consider strange?