VPIWF Picks
Posted by Degan Walters on Wednesday, April 6th, 2011
Tags for this Article: festival, international, sherry, Spanish, vancouver, VPIWF, Wine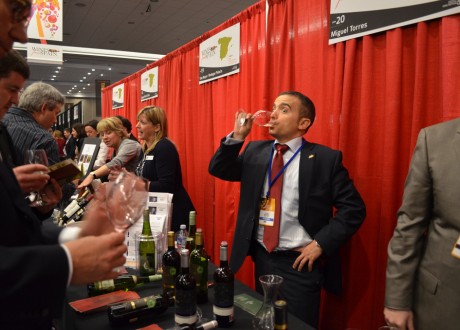 For those who've never been to the grand tasting hall of a wine festival, it can be a bit overwhelming. The Vancouver Playhouse International Wine Festival had over 700 wines to taste this year, from 176 wineries in 15 countries. Get distracted in the California cabs and you might not see a local wine or at the very least end up swapping from bubbles to nebbiolo and back again. You need a plan. The themes of this year's festival were Spain and fortifieds so I wanted to hit up the Spanish section for sure, and then France.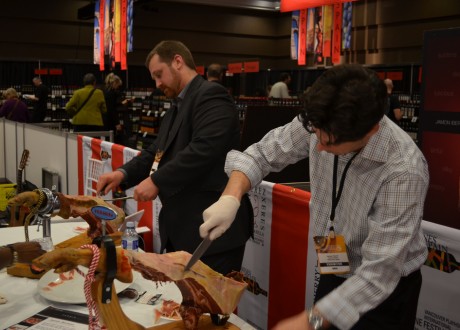 Having just come from a session on sherry, I stopped in at the sherry tent to see if they were pouring anything I hadn't had. I was told the Nutty Oloroso was bottled for Canadian markets so I had a Burdon Medium Amontillado instead, which I quite enjoyed – especially as I followed it up with some freshly carved jamón from the next station.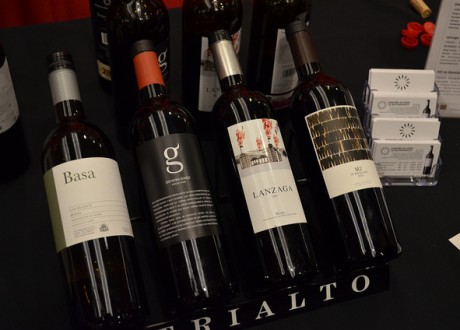 As for the Spanish stuff, I really enjoyed Miguel Torres (pictured top). The Viña Esmeralda was an exquisite white and Torres Celeste was just gorgeous and opulent, full of spicy and pepper backed up by black fruit. I also enjoyed the Torres Gran Coronas Cabernet Sauvignon (and Tempranillo), which made this table a favorite stop.
Other favorites were Bodegas Martin Codax's Burgans Albarino,a fresh and fruity white, and Telmo Rodriguez's Basa 2009 which made an appearance in some of Jay Jones' wine cocktails later at Market.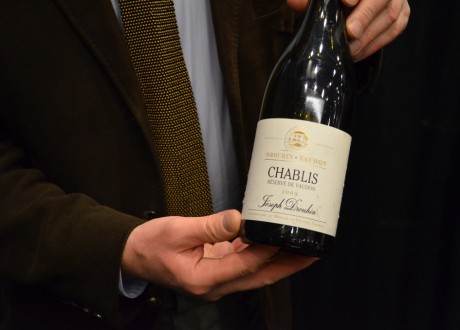 I started in on France with Lallier champagne – both good bets although I preferred the Grand Reserve Gran Cru to the rose –  followed by Joseph Drouhin. The chablis was lovely and lemony and tasted of Spring. I liked it so much that I ordered their LaForest Blanc at Alta Bistro in Whistler a couple of days later.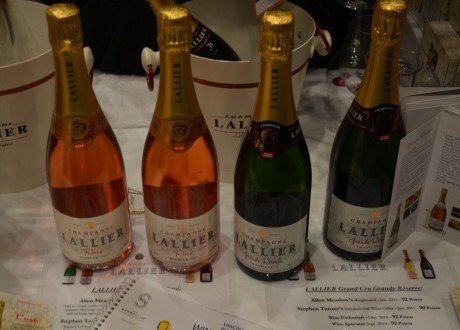 In addition to these gems, the French government is promoting Alsace as a cheaper, relatively unknown winemaking region and as my friends as I had recently had an Alsatian wine (and food) appreciation night it seemed fitting to make a stop. They had quite a line up of Alsatian whites, including cremant (sparkling) and were suggesting instead of coq au riesling, that these wines could pair very well with Asian food.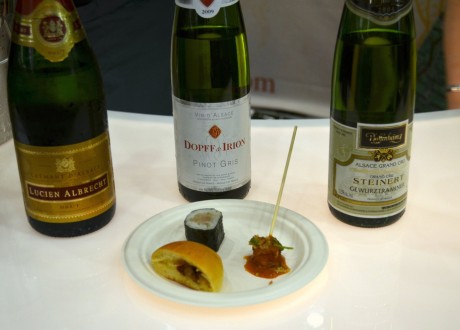 I didn't try the snacks or some of the wines I'd tried recently but the Dopff and Irion Pinot Gris was a good addition to a relatively new (to me) collection.
Finally, it's spring and I wanted to try out some Marlborough Sauvignon Blancs. Astrolabe had come highly recommended and didn't disappoint, as well as Giesen and Kim Crawford. I'll definitely be picking some up for a picnic as soon as it;s a little warmer.
Let's go drink some wine!!