Ravi Soups
Posted by Rob Davidson on Thursday, April 21st, 2011
Tags for this Article: guest, lunch, Ravi, soup, Toronto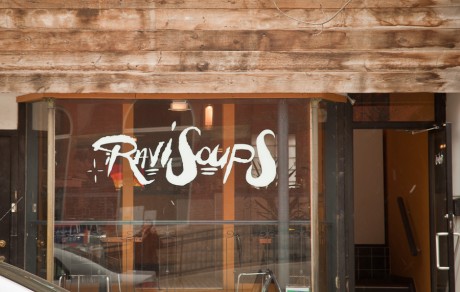 Our guest post from Rob Davidson today is on a delectable Toronto soup shop. Rob is a commercial photographer, specializing in food photography for around 30 years. You can see some of his work at the Epicure in Light and Davidson Photography.~ed.
The word restaurant, meaning "something restoring" was first used in France in the 16th century, to describe a highly concentrated, inexpensive soup, sold by street vendors, that was advertised as an antidote to physical exhaustion. In 1765, a Parisian entrepreneur opened a shop specializing in such soups. This prompted the use of the modern word restaurant to describe the shops. (from Wikipedia)
Ravi Soups continues this venerable tradition  with contemporary panache. The "King of soup", Ravi Kanagarajah, concocts unique flavor combinations of the freshest ingredients to delight the palate and engage the eye. I find myself amazed at the amount of pure flavor he can pack into a simple bowl. Something as simple as corn chowder is enlivened with the addition of blue crab and Thai basil until it sings on the palate. Perhaps I'm waxing poetic here, but I'm sure that once you sample Ravi Soups you'll forgive me my excesses.
The Porcini Mushroom Wild Rice Bisque, a perennial favourite, is rich and earthy with its hint of truffle oil.  Any of these soups paired with one of their wraps makes a very hearty meal.
Ravi himself purchases the freshest organic or naturally grown ingredients form local suppliers whenever possible.  He then makes all his own stock and bases from scratch every morning.  He learned this disciplined approach running his family's restaurant (The Nathan Cafe) in northern Sri Lanka form the young age of 14.  He came to Canada in '91 (after spending years in the kitchens of Europe)and immediately landed a job as dishwasher in Mildred Pierce.  Donna Dooher (the owner) recognized a nascent talent, and before long Ravi was crowned King of Soups.  Striking out on his own, he opened the first Ravi Soups on Adelaide Street.  His new location in the heart of Queen Street West opened a year ago and has enjoyed booming success under the knowing hand of his brother Suresh.  They're looking for new locations for further expansion…. Ravi mentioned that he has 17 cousins in Toronto working in various restaurants, so he has a large talent pool on hand!
By the way, if you think of soup as strictly cold weather fare, Ravi will change your thinking.  He tantalized me by mentioning Chilled Sour Cherry with Sweet Riesling, and Carrot Ginger Cucumber Gaspacho with Lime Créme Fraiche.  I'll be back there in the dog days of summer for cool refreshment!
Ravi Soups
1128 Queen Street West, Toronto, ON
(416) 538-7284
322 Adelaide West, Toronto
(647) 435-8365