In Dire Need of a Bubbie
Posted by Alexa Clark on Thursday, September 2nd, 2010
Tags for this Article: chicken, jewish, soup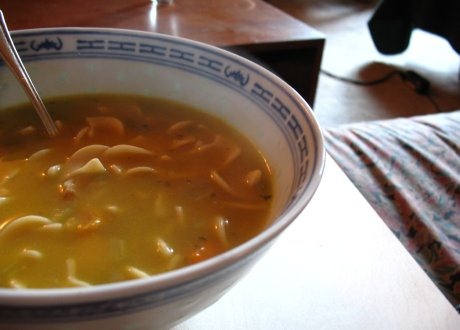 You'd think with parents who grew up in Winnipeg and so many chefs as friends and all my Jewish connections that when I was sick I'd have a go-to chicken soup recipe.  Not just any chicken soup recipe but a proper Bubbie's Chicken Soup recipe with many years of simultaneously curing the cough and the soul.
With the right combination of hearty broth and schmaltz, chunks of moist chicken and vegetables, but not too much of anything to be challenging when you are feeling sick and pathetic, a proper Bubbie's Chicken Soup really is Jewish Penicillin.
So I turn to my vast collection of cookbooks and lovingly hand-written recipes which turn up Chicken, Tortilla Soup, and Chicken, Corn Thick Soup, and Chicken, Tom Yum Soup, even Chicken, Ramadan Soup,  none of them will heal my sniffles.  And boy do I have sniffles.  Even my fellow Foodists don't have a cure for me  (but do have great recipes for Mushroom Soup, Hot & Soup Soup – Matt Style, Bishops Asparagus Soup, Sinigang Soup and Jackie's lactose-free soups)
So my friends, can you help a girl out?
I've throw a chicken in a pot with carrots, celery and onions.  What next?