No More Punishment – It's Now All About The Pleasure.
Posted by Erin Mussolum on Thursday, April 28th, 2011
Tags for this Article: Bob Blumer, cookbook, Glutton for Punishment, interview, video, Vimeo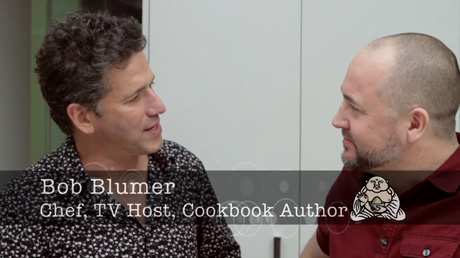 The Foodists recently had the opportunity to grab some kitchen time with celebrity chef Bob Blumer when he was in Vancouver promoting his new book, "Glutton for Pleasure". The cookbook is his fourth and contains stories where he dishes up culinary experiences from his television and food career and includes honest and accessible recipes. It is also beautifully packaged in a book that is as far away from "punishment" as "pleasure" can be.
This is a relatively new focus for Bob. As a chef known mainly for either riding around in a giant toaster-mobile in the television series "The Surreal Gourmet", or subjecting himself to extreme and sometimes punishing circumstances in his show "Glutton for Punishment", Bob now shows off his sincere love for food, and the accessibility of it.
Bob is one of us. He loves food, is self-taught (although you wouldn't know it), and speaks our language with a humility and joy that you don't often see among many "celebrity chefs". He's the real deal. You should see it to believe it, so check out the interview and let us know your thoughts.
Bob Blumer is now a Foodist from The Foodists on Vimeo.
Check out other fun Foodists videos on Vimeo and stay tuned for our upcoming interview with Rachel Sawatzky, founder of CocoaNymph Chocolates & Confections.