Hapa Umi: growing up
Posted by Erin Mussolum on Monday, May 2nd, 2011
Tags for this Article: edamame ravioli, Hapa Izakaya, hapa umi, Japanese, Japanese fusion, spring salmon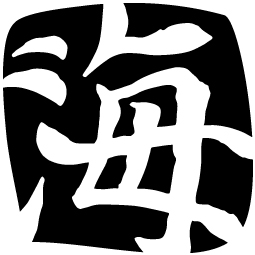 A few months ago I attended the soft launch of Justin and Lea Ault's newest venture, Hapa Umi.
While the dishes were a solid selection of modern Japanese fusion fare I walked away from the experience feeling like the new restaurant didn't really know who it was.  Some of the dishes were brilliant, like the sushi and sashimi, yet others were in an awkward infancy – somewhere between birth and first steps – I was disappointed.
As a Foodists contributor I seldom write a post if I'm unhappy with a restaurant or dish, unless it truly deserves it, so I decided to save my comments and try Hapa Umi another time…after they were "out of the weeds" so to speak.
That opportunity came last week when I was invited to an intimate media tasting dinner to sample some of the prize menu items from both the lunch and dinner menu.
Our table of four started with the Halibut Ceviche, followed by the Pemberton Meadows Beef Tataki. Both were solid in flavour, but the real show stopper "starter" was the Edamame Ravioli. Picture puréed edamame and ricotta-stuffed homemade ravioli soaking in a yuzu brown butter sauce with just the perfect influence of truffle oil. Paired with a 2009 Desert Hills Gewurztraminer, it was a decidedly brilliant dish! I suggested to the staff that Hapa Umi consider making this a main.  It was fresh, spicy, velvety in texture, and the pasta was done to a perfect al dente. It's an excellent example of what I truly think Hapa Umi fare should be: common dishes with that perfect Japanese element. It's something you wouldn't get at Hapa Izakaya, but is presented with the same passion and parental brand of the Hapa name. I will come back for this.
Our table was also introduced to the Bento Box normally served at lunch. The upscale box was artistically presented and included sashimi, sushi, interesting unconventional rolls, and the most amazing pork belly that I have ever had. It was melt in my mouth perfection with just a hint of sauce that never upstaged the flavour of the meat. I'm craving this now too.
But the real "stop me in my tracks" dish was the BC Wild Spring Salmon.  If you want to impress the boss or that special someone this is the dish to do it with. Set against the backdrop of the minimalist yet cozy space at Hapa Umi, the salmon was art on a dinner plate. Done to perfection with crispy salmon skin it was like nothing I have ever had.  The delicate fish was pan-seared, and accompanied by homemade gnocchi, roasted cauliflower, which added a nutty and complex quality to the dish, a cauliflower puree, grilled root vegetables elegantly arranged, and then topped with a beautiful miso hollandaise foam that I wanted to drink – it was that good.
After truly enjoying seven courses and a selection of desserts I'm pleased to report that Hapa Umi has grown up. The restaurant is beginning to understand who it is, and maybe in the process who it isn't.  And that's what coming of age looks like. It's not perfect, yet I strongly believe that Hapa Umi will continue to grow, change and adapt as it learns how to not be Hapa Izakaya, yet still meets the demand of it's loyal customer following.
However I would like to suggest one thing Justin and Lea – can you please put the Ebi Mayo on the Umi menu? It's my go-to dish at all the other Hapa restaurants and it's sorely missed. This one exception would make this foodist and friends just that much "Hapa-ier"!
Hapa Umi is located at 909 West Cordova St. It is open for lunch weekdays, and dinner from Monday to Saturday.
www.hapumi.com.