Lining for a Loaf
Posted by Pailin Chongchitnant on Wednesday, May 11th, 2011
Tags for this Article: bread, san francisco, sourdough, Tartine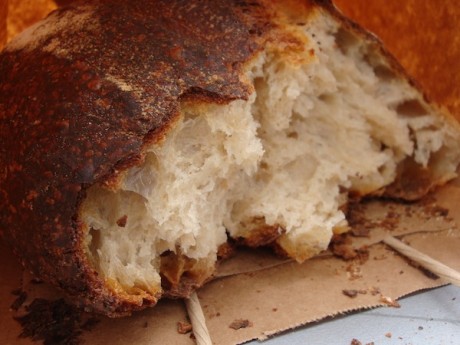 I believe 30 minutes of my time is worth more than all less-than-awesome food, and so there are few places (the awesome-and-above places) I would actually line up for. When I arrived at Tartine Bakery in San Francisco on a windy Saturday early evening, to discover a lineup that goes far, far beyond their premises, I was a little frustrated and perplexed….I didn't realize bakery hangouts on a Saturday evening was the new Bay Area fad…shouldn't people be getting ready to go out for dinner or something? Now, I'd been to Tartine before, to the command of a friend who, upon finding out about my move to San Francisco, said, "Whatever you do, you MUST go to Tartine!" That time, there was a lot of people, but not a near-demonstration like this. I lined up anyway, since I had an out-of-towner with me and wanted him to try their wonderful, beyond-awesome Morning Buns. And because lineups in San Francisco are generally pretty accurate indicators of good food (unlike in some other cities.)
As I read the bakery's menu while waiting, I finally figured out what was going on. In bold, the bottom of the menu said, "Our breads are made with locally milled organic flours and sea salt. Baked on a radiant stone hearth. Loaves are out of the oven after 5:00 pm Wednesday through Sunday…" Ahhhhh….THAT's why all the lineups are here. This got me really excited, having arrived just before 5 felt like the was the Universe's plan to lead me to this discovery.
Finally, we got to the counter and ordered te most expensive loaf of bread I had ever seen ($7, although it's also incredibly heavy and large, so the value of it really isn't bad at all.) We ordered just a plain loaf. We could  still feel the warmth of the loaf through the paper bag it came in. The crust was full of that beautiful bread blisters you can't find on light and fluffy bread. The crust was dark, thick, and intense-looking. This looked like some hardcore bread. The loaf's smell was also intense. It smelled so much like bread that other breads seem like diluted impostors. It was the smell of a sourdough that had gone through a long and slow fermentation.
We sat outside and proceeded to devour chunks of warm, chewy, tangy goodness that we tore straight from the loaf like savages. Ahhh….it was worth every minute of waiting, and it was the happiest coincidence I'd had in a long time. After watching this video that shows the passion and attention that was put into those loaves, I'm not surprised it was that good.