The Real Amalfi
Posted by Gen Handley on Thursday, May 19th, 2011
Tags for this Article: amalfi, guest, italy, Pasta, Travel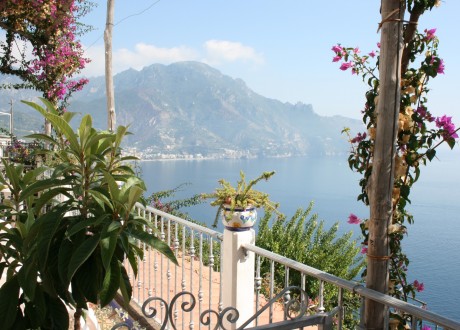 Today's guest post is by Gen Handley. After retiring as a high school teacher after one, very long year, Gen decided to pursue the craft of writing instead of teaching it to future generations. He has since contributed his words to a diverse number of organizations and publications including the University of Alberta, Metro News, 24 Hours, the Edmonton Journal as well as Vue Weekly, Punknews.org and now, Foodists.ca. He has also worked in government public and media relations and is currently a communications assistant with a Crown corporation of the BC government.
While his writing topics over the years have ranged from livestock to politics to punk rock, Gen's passions lie in honest food, music and people. He loves to cook and to eat – it's both the means and the end that matter to him. – ed.
Tiny bed and breakfast offers best view of Italian culture
The winding Amalfi roads seemed to encourage my wine-induced hangover.
"Isn't it beautiful?" my girlfriend asked as I hung my head out the window. "Babe, are you okay?"
"You okay?" asked Gregorio, a big man from the town of Picasso who apparently had not noticed the shitty wheel alignment in his vehicle, which was making the car wobble ever more so around the long, windy Amalfi roads.
My girlfriend and I were on our way to the town of Ravello where we had booked a room at a highly recommended bed breakfast called Punta Civita. After an hour-and-a-half drive from Naples airport, we finally reached our destination where I finally could appreciate the surreal world we had traveled to.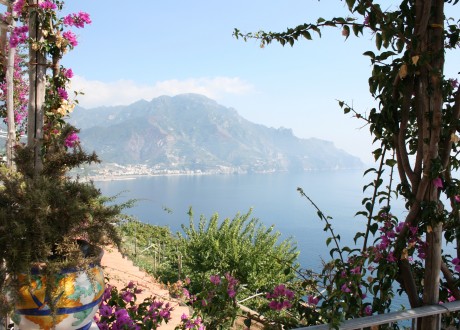 Gorgeous little buildings dotted the rocky cliffs, which looked down upon the absinthe-green waters of the Atlantic Ocean. Punta Civita is one of these buildings and its view of the ocean, vineyards and surrounding communities is spectacular.
"Welcome," said Meelee who is the niece of owners Roberto and Nada Lucibello.. "How was your drive here? Was Gregorio nice on the corners?"
I smiled, wiping the Chianti-scented sweat from my drenched brow.
"It was great," I said poker-faced.
Meelee took us down to our room where my headache was almost instantly blown away by the cool ocean wind and pristine scenery. Draped in flowers and vines, surrounded by lemon and olive trees and maintained to rustic perfection by the very hospitable Lucibello family, Punta Civita is the first thing that comes to mind when dreaming of Italian landscapes.
After arriving, we almost immediately embarked on the windy trek down to the village of Amalfi where we found a seaside eatery by the name of Ristorante Le Palme. Here we were served a delicious local pasta dish with tube-like paccheri pasta, local scorpion fish, walnuts and fresh, gloriously green parsley. Consuming this very quickly, I was swiftly offered a complimentary frosty shot of locally produced lemoncello – again, throwing into my stomach as fast as esophagally possible.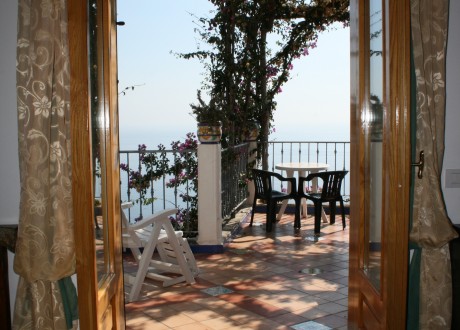 "Amalfi has the best lemons," our server said, less like a car salesman and more like a proud babbo or father.
My girlfriend and I laughed, remembering the servers in Sicily and Cinque Terre (where we had visited days before), who also bragged about their superior lemons. Regardless, it was refreshing and contagious to see restaurant workers so proud – and knowledgeable – about what they served their patrons. This was something found consistently in Italy – especially the Amalfi coast where local produce is definitely something to be proud about.
Roberta and Nada grow a long list of natural delights in their terraced garden, including olives, fennel, oranges, lemons, apricots, figs and plums. They sometimes take this produce to the next step by making sweet olive oil, lemoncello and blueberry liqueur, which only accentuate the natural flavours of area. Everything grown and produced at Punta is for family and visitors alike, reinforcing the Lucibello's commitment to being genuine hosts – not matter who
"We grow a lot of great, delicious things here," said Roberto. "We grow for our family and for our visitors like you. I feel lucky to be able to do this, but it is hard work."
Roberto would know. This has been the inaugural year for Punta Civita's wine, the Vineyard Happy Chicken – named after the seemingly happy free-range chickens that roam among the grape vines.  A day before we arrived, Roberto was carrying two large wine jugs on each arm when he fell, severely damaging the tendons in his arm on broken glass, requiring surgery and months of recuperation.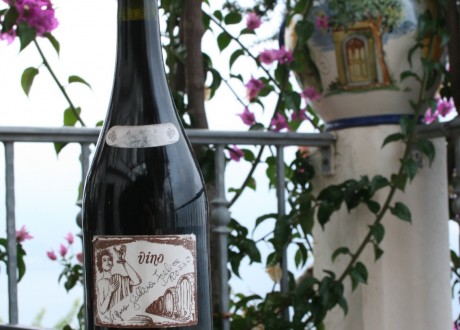 Originally owned by Roberto's great-grandmother, the parcel of land that Punta Civita sits on was divided up among the children. Luckily, Roberto's grandmother received with this inheritance a 17th-century building, the original skeleton of the bed and breakfast.
"It was a typical cube house where the basement had a water cistern and an area for cows and sheep," Roberto explained. "The first floor was where they kept the hay, which is now the Romantica Room where you are staying."
One of 13 municipalities along the Amalfi Coast, Ravello sits high in the mountains, with its buildings clinging the cliffs like the barnacles on the rocks below.  A rustic sanctuary for the creatively inclined, Ravello has seen a great deal of intoxicated famous faces including Spanish artist Miro, composer Richard Wagner and scribe Tennessee Williams – all of whom I could imagine enjoying the abundance of local wines and women, stumbling like teenagers through the Ravello roads late into the evening.
Roberto says that it is a place where people of all walks of life can appreciate each day.
"Most of the people in Ravello are landowners and they truly understand what it means to work hard because they take a lot of pride in what we grow," he said. "But we also know how to enjoy ourselves and appreciate the place where we live. I never get tired of Ravello or the Amalfi Coast and I always say, 'I'm always on vacation!'"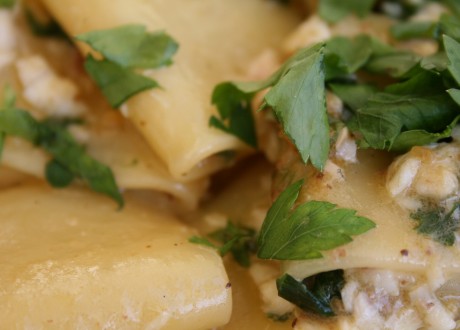 It's easy for a tourist like myself to say that I can taste the hard work that people like Roberta and Nada have laboured into their fantastic wine, but the truth is I really have no fucking idea. Right away, you see the obvious: colourful ceramics, fresh fish, bright paintings and hand-made pastas. When you dig a little deeper – and I'm not talking about  much – you can feel the steady strong pulse of this vibrant area, you see the passion in the people of Ravello's eyes, who won't take their beautiful surroundings for granted.
"It's been hard," Nada says, after she had just come back from visiting her husband at the hospital. "We take this as a part of life and keep going."
Sitting on the magnificent patio of Punta Civita, sipping on the wine and tearing into the fresh bread, I tried to appreciate all the hard work behind Nada's bright, but obviously tired eyes while she discussed the past year.
"My great-grandmother worked very hard to maintain this place and so have we," Roberto said. "It's a lot of work but I think it is worth it, no?"