Family dinner
Posted by Gen Handley on Monday, June 20th, 2011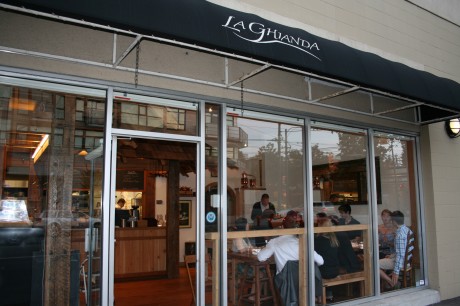 On Thursday evening, my girlfriend and I sat down to have dinner with a group of complete strangers at a restaurant we had never tried before.
"We want to facilitate people meeting over food," said Reggie Milligan, one of three founders of The Social Feed, a Vancouver group that connects local people and local food at the tables of local establishments. "We want to create those events where people can come together, discover an awesome restaurant and hopefully meet somebody interesting."
Admittedly, I was a little tired and melancholy from a long day at work preceded by a late night of watching playoff hockey/riots. But all reluctance disappeared once we met our friendly fellow diners as well as found the massive plates of crostini and salty baccala waiting for us on the heavy wooden tables at La Ghianda, a small, tavern-like restaurant on Alma and 4th serving up very simple, but delicious, rustic Italian cuisine. Soon, platters of penne carbonara, tender zucchini trifolati and chicken milanese were casually being passed around over growing chit-chat and laughter, giving the feel of a traditional Italian dinner.
Once the last glass of wine had been poured that night, I was feeling pretty comfortable with my new surroundings and friends.
Since February, The Social Feed has successfully held (mostly sold-out) weekly dinners at a number of great restaurants in the area including Nuba, Flying Tiger and Six Acres. Inspired by the fading institution of family dinners, Reggie and his partners based the idea around two simple passions that they all shared. The cost per dinner ranges from $22 to $24, which covers tax and tip, but not beverages.
"We all love good food and we all love meeting people," Reggie said.
"I liked the food a lot," said Lydia Millett, a New Zealand-transplant who I met at La Ghianda. "And I also liked the experience – it was fun."
What struck me about my inaugural Social Feed dinner was how relaxed, how casual the experience was. And it was one of the few dinners that I had in recent memory that lasted longer than an hour-and-a-half.
"A lot of younger people don't really go to independent restaurants very often," said Alexander Close, another Social Feed founder. "The prices of these places are very comparable to the chains and often the quality is better. And people don't sit down for long periods to eat anymore."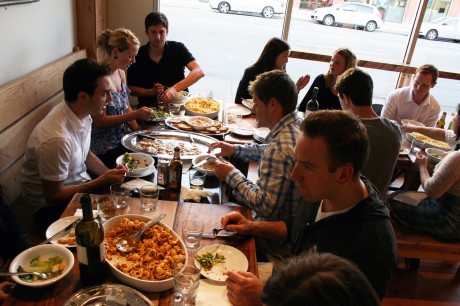 The reverberations of recent unsavory events will never define this city. It's the rich diversity of quality food and people in Vancouver that's truly resonant and truly represents what is offered here. This abundance of good flavours and personalities are all out there for our consumption and for us to experience – the Social Feed is helping make sure that it isn't taken for granted.