Tiramisu ("Pull Me Higher")
Posted by Dave Delibato on Monday, May 30th, 2011
Tags for this Article: coffee, dessert, espresso, italian, ladyfingers, marscarpone, savoiardi, tiramisu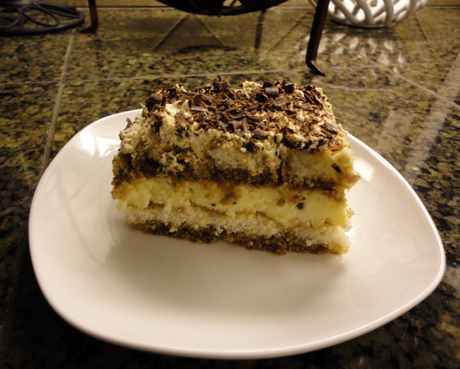 My Aunt Bina (in Italian, "Zia Bina") is a woman of admirable talents. As a member of the Catholic Women's League, she routinely solicits her fellow parishioners on behalf of local poor. She ruthlessly haggles with Florentine shopkeepers for their leather goods and fine linens, on behalf of visiting relatives. But where she is truly unrivaled is in her tiramisu, which she makes on behalf of all that is noble and good.
Over the last couple of decades, tiramisu has regrettably become a commodity – an easily ignorable dessert on dusty Italian menus, along with the cheesy (forgive the pun) likes of spaghetti and meatballs. It's become the cloying, supermarket-bakery, Black Forest cake of Italian desserts; rotating in cylindrical glass displays everywhere to washed-out, electric organ renditions of "Quando, Quando, Quando."
Most sources translate the name of this dessert as "pick me up." I feel this attempts to bridge a language gap (too conveniently) by mooring the definition to an apt but otherwise uninspiring English idiom. I prefer the literal – and somehow, more intriguing – translation of tira mi su:
"Pull me higher."
So fittingly, I demand its resurrection from mediocrity. After all, there's no such thing as ho-hum tiramisu. Just trashy, silly things that are kinda, sorta, half-hearted experiments in tiramisu.
My zia passed this guidance on to my sister, who passed it on to me. I'll now pass it on to you. Rise, noble dessert!
Ingredients
4 – 6 (room-temperature) egg yolks
6 – 8 tbsp sugar
2 tbsp powdered sugar
16 oz mascarpone cheese
1 cup strong espresso (fully cooled)
2 – 3 tsp brandy (you can also use nice rum, marsala wine or even amaretto)
2 packages ladyfingers (savoiardi) (14 oz. or approx. 48 of them)
1 pint (16 fl. oz. carton) of whipping cream
dark chocolate shavings or a dusting of cocoa for dusting the top
PRO TIP: once whipped, I sometimes crush a few amaretto cookies and fold them into the cream, which becomes the top-most layer.
Directions
1. Cream mascarpone cheese with sugar.
2. Incorporate egg yolks (one by one) into the mascarpone/cheese mixture.
3. Stir liqueur into cooled espresso, and pour into a shallow bowl or dish. This will be the station for dipping the lady fingers.
4. Dip lady fingers one by one (carefully and relatively quickly) into espresso mixture, taking care to not leave them there too long, or they will get soggy and disintegrate.
5. Line the glass baking dish with a layer of coffee/liqueur-dipped ladyfingers.
6. Add mascarpone cheese mixture, in a layer, on top of the ladyfinger layer.
7. Repeat the ladyfinger procedure (steps 4 & 5) – another complete ladyfinger layer on top of the mascarpone layer.
8. Whip cream, powdered sugar and flavour with a tsp. of vanilla and/or 2-3 tsp. of reserved espresso. Top desert with a layer of the flavoured, whipped cream.
9. Dust top of whipped cream layer with chocolate shavings or cocoa.
Make a day ahead and refrigerate. It needs to settle, cool and allow for the flavours to blend together. The day after that, the dessert gets even better.