"What's a smorgasbord mommy?" Memories of Frank Baker's Attic
Posted by Mark Busse on Sunday, July 3rd, 2011
Tags for this Article: Astin Martin DB5, Frank Baker's Attic, memories, restaurant, smorgasbord
I was recently driving with some friends past the location of the old Park Royal Hotel in North Vancouver when a big grin crossed my face as we pulled up to the intersection of Marine Drive & Taylor Way. "What're you smiling about?" prodded one of my buddies. "Do you guys remember Frank Baker's Attic restaurant that used to be over there?" I replied. Perhaps because they were too young or hadn't grow up in Vancouver, but none of them knew what I was talking about, and that made me sad. Trips to Frank Baker's Attic were some of the most fun I ever had at a restaurant and some of my fondest early dining memories with my family.
We moved west to BC from Manitoba when I was a boy. It was the mid-seventies and we were a young family struggling to make ends meet and the move was a huge opportunity for us. There wasn't a lot of extra spending money, so most meals were spent together at home. Rarely, and only when my sister Terri and I promised to be good (which we often weren't), we'd get to eat out at a restaurant with mom and dad. And we loved it. But the best treat of all, after church on a Sunday, was when on the way home my parents would exchange a glance in the front seat of our gigantic brown station wagon, and with a wink my dad would say "Hey kids, wanna go for a drive?" Pure joy.
"A drive" was a special family tradition for us. Sometimes it meant we'd grab burgers and wander about looking for garage sales on a sunny afternoon. But on special occasions it meant a trip to Frank Baker's and a tour of the British Properties in West Vancouver where we'd look at the houses and dream of living in those beautiful big homes. These were epic adventures for Terri and I. From the back seat of that growling beast of a car we'd watch the world go by. We'd marvel at travelling over not one, not two, but THREE bridges, the last being the impossibly large Lions Gate Bridge spanning the Burrard Inlet, connecting the mysterious Stanley Park to the north shore and West Vancouver. We'd pull into the parking lot of Frank Baker's Attic and Terri and I would be off running before the car had stopped.
"What's a smorgasbord mommy?" I asked inquisitively, thinking it was another of those strange German words (turns out it's Scandinavian). Her answer will stay with me until the day I die: "It means you can eat as much of anything as you like dear." Wait, what? Was she serious? Those were dangerous words to say to a hyper-active, food-processing machine called an eight year old.
Frank Baker's Attic was big. No, check that, it was huge. I read somewhere that it had 1,200 seats in it, but in my childhood head it may as well have had 5,000. And somehow it always seemed crowded, filled to overflowing with noisy throngs of happy diners—many of whom likely also drove from parts unknown to take in the cacophonous atmosphere and eat their fill from the long tables covered in a buffet spread hard to accurately describe.
If I close my eyes and try to conjure images of the food at Frank Baker's Attic I see giant bowls of meatballs, rows of bright yellow and white devilled eggs, cold cuts for miles, pyramids of freshly-baked dinner roles, platters of bacon-wrapped scallops, and great, big mounds of prime rib glistening under heat lamps, jiggling and oozing red liquid as the chef cut off thick slices for me—as many slices as I could want! And horseradish? What a delight! It was at Frank Baker's Attic that I first discovered many foods and flavours I'd never experienced back in Manitoba. This truly was a burgeoning Foodist's playground.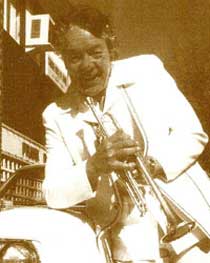 But amongst memories of food flash odd images and quirky recollections, like that of a Dixieland band that would suddenly start playing, with Frank Baker himself wearing his trademark white suit joining them on trumpet, loudly playing When the Saints Come Marching In as they marched through the crowd, grabbing patrons (especially eager kids like us) to follow behind like some sort of congo line. It was hilarious fun.
I recall the room filled with brightly coloured, strange lampshades that gave the entire place a feeling of some creepy old lady's parlour or something (turns out Baker was an avid collector of antique Tiffany lampshades). I remember my mom laughing hysterically when she lifted the leaf covering the privates of a statue of David, only to jump back in fright when an alarm buzzed loudly, making her turn red with embarrassment. That was Frank Baker's—always filled with laughter.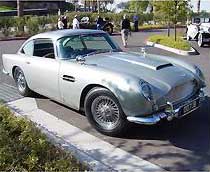 Certainly for a young boy my age, the most amazing thing about Frank Baker's Attic was the car. That's right, the car. I would drop hints and make special requests to go back to the restaurant just so I could stand and stare at James Bond's Astin Martin DB5—who some claim is the most recognizable car in the world. I couldn't believe that the very roadster Sean Connery drove furiously in Goldfinger, with its ejector seat, pop out machine guns, and bullet shield behind the rear window was right there in front of me incased in glass (it wasn't until years later that I realized it probably wasn't even the actual car used in the famous scenes in the movie). As compelling as the joviality and gluttony happening in the dining room was, I couldn't wait to be excused so I could go out front and stand at that glass, my imagination running wild as I pictured scenes with bad guys chasing 007 as he narrowly escaped through a combination of skillful driving and the gadgets installed by Q. Mesmerizing.
After jotting down some of these memories for this post I did a quick Google search to see what I could find about Frank Baker's iconic restaurant and was disappointed how little info I could find. Luckily I did stumble across this short documentary video about Frank Baker by a VFS student from 2003 with footage from the 1980s, but it paints a bleak picture of the restaurant's slow demise and the decline of Baker's health. Frank Baker's Attic is long gone now (Frank died years ago), but the memories of those family adventures on Sunday afternoon drives will remain in my mind forever. And the eight year old who still lives inside me is grateful for them.
The artist, designer and author Douglas Coupland grew up in West Vancouver, and wrote about Baker in his book Polaroids From The Dead:
The man with the horn was Frank Baker, a restaurant owner of that long-vanished era when "fine dining" meant a T-bone steak, three double scotches and a pack of Chesterfields.

Mr. Baker, who died in 1991, had once owned a "swinging" kind of restaurant in West Vancouver where your parents would take out-of-town guests, but only after first getting themselves all revved up with Herb Alpert records.

Mr. Baker was always, to younger eyes, the embodiment of a certain type of cool, so cool that he had even bought the original Aston Martin DB-5 used in the James Bond movie Goldfinger. He was certainly a character, and his restaurant was an occupational puppy mill for a good number of friends during high school who bussed there and diced the vegetables and did food prep on weekends.
As I recounted these memories to my friends that afternoon, it occurred to me there are so few of these type of restaurants left. And very few neighbourhoods like those in West Vancouver too. Fewer still are the flamboyant, eccentric restauranteurs like Frank Baker himself. In fact, I can't really think of any at all…anywhere—can you?