All cocktails point to West.
Posted by Erin Mussolum on Wednesday, September 23rd, 2009
Tags for this Article: cocktails, Drinks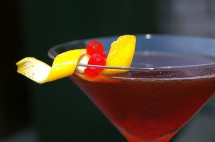 I live in the neighborhood of South Granville and during my typical traipses up and down the street I always happen to walk by West, described as the "jewel in Vancouver's culinary crown."
It is at this gem that I often would stop and pretend to be engrossed by the menu posted on the front door while casually stealing glances into the restaurant's interior, observing what culinary creations were being placed at the right of diners.
I guess I felt intimated going into this "above" 5-star restaurant, doubting if I had the right ensemble to don and if my humble paycheck would make an appropriate accessory. After eavesdropping, I heard that the bartender at West, (I've now come to know he is called a mixologist and his name is David Wolowidnyk), pours the best Manhattan in the city, and that you can just sit at the bar and enjoy your favorite cocktail without the pressure of dinner. Wow, how simple is that?
Armed with friend in tow I headed to West and took my seat at the long cherry wood bar. I wore the right outfit (almost anything goes) and my wallet's contents indeed were the perfect accoutrement. David took us under his wing walking us through the cocktail menu, asking us what we typically liked and sharing what he thought we might like (he can create anything and can go freestyle if you ask him).
With signature cocktails named Four O'Clock, Ya Mon & West 75, as well as a roster of classics like The Brown Derby, Aviation, The Last Word and Side Car, you can't help but feel uber swank ordering them. David has a story about each of them, their origin, changes to them over time, and how he has added his own slant to them. I guess that's what makes an award-winning mixologist – he's like a chef of liquids.
My favorite, and the one I dream about while commuting to and from work (don't laugh) is the Kaffir Fling. Made with an egg white, fresh lime juice, almond liqueur, and vodka infused onsite with kaffir lime leaves and then topped with toasted cinnamon via blowtorch, the Fling is like a meal in a glass – the complexity is in a perfect balance – so good I would bathe in it.
So if you are in need of a phenomenal cocktail (aren't we all), and maybe a better than best location for a winner date, check out West.  You won't need any more entertainment than what is in front of you, or beside you if things are going well and they are guaranteed to after a cocktail or two.
West is located at 2881 Granville Street in Vancouver.  To salivate visit their website at www.westrestaurant.com