It's High Time Scout Magazine's Andrew Morrison Answered a Few Questions
Posted by Mark Busse on Monday, September 12th, 2011
Tags for this Article: Andrew Morrison, interview, Scout Magazine, vancouver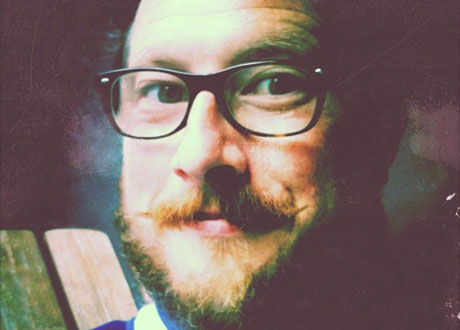 It's entirely likely that if you read this website, you're quite familiar with the Vancouver-based food and culture site Scout Magazine. and its outspoken founder and Editor, Andrew Morrison.
Since its inception a few years ago, Scout has broken news of openings around town, regaled readers with cutting opinion pieces on a variety of topics, and has interviewed dozens of what he calls "interesting Vancouverites". Every week or so, Morrison poses 60 questions to a local, with the interviewee choosing the 20 or more questions to answer. He calls it his sort of Rorschach test. Indeed.
Well, we felt it was time to turn the tables and interview Morrison himself, but instead of using his set of questions, we borrowed those based on the theme of creativity used by our friends at CreativeMornings/Vancouver. We submit 32 questions, only asking him to answer the first four plus any two more from the wildcard list. In classic Andrew Morrison fashion, he not only answered all of ours, but then added a whole bunch of his own:
How do you define creativity and apply it in your career? Creativity, to me at least, is the expression of oneself as an individual without ever feeling false about it.
Where do you find your best creative inspiration? I write for (and target Scout to) eight specific Vancouverites who I believe represent our greater audience.
What's the one creative advice or tip you wish you'd known as a young person? Don't overreach.
Who would you like to hear speak at CreativeMornings? Designer Craig Stanghetta.
What's the craziest thing you've ever done? Scaled a vertical cliff on LSD while trying to get away from the police.
What did you learn from your most memorable creative failure? Be careful who you go into business with.
What's your one guilty creative indulgence? Vocabulary.
What are you reading these days? Mostly its to my two young sons. Right now we're in the middle of Swallowdale by Arthur Ransome.
What fact about you would surprise people? I have a massive penis.
How does your life and career compare to what you envisioned for your future when you were a sixth grader? I never became a professional skateboarder or a professor of history.
How would you describe what you do in a single sentence to a stranger? I try to inform those Vancouverites who are interested in local, independent food and culture of the coolest things that are happening in their city.
What's the most recent thing you learned (big or small)? That our moon was formed after a rogue planet collided with the Earth while our solar system was being formed.
If you had a magic wand, where would you be in five years? Exactly where I am now but with more travel under my belt.
What keeps you awake at night? Coffee and cigarettes.
Who has been the biggest influence on your life? What lessons did that person teach you? My father, who was a publisher too. He taught me too much to list, good and bad. He died a few weeks ago, so I've been going over his lessons every day. One of his adages that I've consistently ignored was "never print anything that you can't wrap advertising around."
If you could interview anyone living or dead, but not a celebrity, who would it be and why? Sir Frederick Courtney Selous – a big game hunter in Africa in the late 1800's. I've looked up to him since I was a little kid because he embodied a sense of adventure without the selfishness of Han Solo.
If you could do anything now, what would you do? Archaeological digs in British Isles and The Levant.
Where was the last place you travelled? The Okanagan. Three trips in two weeks.
What was the best surprise you've experienced so far in life? MDMA, but never again.
Where is your favourite place to escape? A campground close to Tofino.
What was the best advice you were ever given? "Go back and finish highschool."
What practices, rituals or habits contribute to your creative work? When I start a story or a column, I listen to one song on repeat until it's finished.
When you get stuck creatively, what is the first thing you do to get unstuck? I have a half-pipe in my office, so I either skate a few runs or go have a smoke.
If you had fifteen extra minutes each day, what would you do with them? Dedicate 7.5 minutes of one-on-one time to each of my kids.
What has been one of your biggest Aha! moments in life? Grown ups don't know half as much as you assumed they did when you were younger.
SCOUT INTERVIEW QUESTIONS
What are three things about Strathcona that make you want to live there? McLean Park. Character neighbours. Its maze of dead end streets.
What are three things that Strathcona doesn't have but should? A moat. A really good pub. A lake.
Name the thing that you eat that is bad for you that you will never stop eating? Red meat.
Default drink/cocktail of choice? Beer. Also Mint Juleps in summer and sweeter than usual Old Fashioneds in winter.
Name three drinks/cocktails you'll never have again? My mother's milk. Decaf. Warm rice wine.
The Vancouverite that you admire most and why? Chef/restaurateur John Bishop. A gentleman all-rounder for the ages.
Your role models? My parents.
Your favourite sound? A diesel Land Rover starting up in the dark just before dawn.
Your least favourite sound? The sound a hard, urethane skateboard wheel makes when it hits a pebble in the dark at speed. It's like a fart crossed with a dog bark, short and sharp, and the next thing you know you're flying through the air.
Your favourite smells? Coffee. Gasoline. Burning beach logs. Leather. Pipe tobacco. Marijuana. Rain on hot dust after a sunny day. Bacon. Maker's Mark bourbon.
Your least favourite smells? The Carrall St. entrance to Blood Alley in Gastown on a Sunday morning after 500 assholes have pissed behind the dumpsters. Bad body odor. Baby poo. Puke.
Where is your favourite local patio? Brix.
The historical personalities, both good and bad, that fascinate you the most? Winston Churchill, Napoleon Bonaparte, Cecil Rhodes, Phillip of Macedon, Galileo, Aristophanes, Jan Smuts, Stephen Bantu Biko.
The dumbest thing that you've ever done to your hair? I looked pretty stupid with a shaved head (lost a bet).
What are the three things you'd like to change about Vancouver? Stupid liquor laws. Cops investigating cops. NIMBYism.
Is there a local bartender who could sell you anything? There are many, but Shaun Layton at L'Abattoir, Simon Kaulback at Boneta, David Wolowidnyk at West, and Josh Pape at the Diamond spring immediately to mind.
Your go to, no-frills place for dinner? Dona Cata on Victoria Dr. or Budgies Burritos on Kingsway.
If you could board a plane this afternoon, where would it be taking you? Either to Tripoli, en route to Leptis Magna, or to Nice.
The strangest place you've ever been to? Tough call. Either the Kalahari Desert or Bora Bora.
The three books that you read that made an impact on you in your formative years? I refuse to believe I've left my "formative years", but Swallows & Amazons by Arthur Ransome, A Moveable Feast by Ernest Hemingway and The Practice Of The Wild by Gary Snyder were probably the most impactful when I was younger.
Who's style do you covet? Peter O'Toole's.
Where was the last place you traveled to for work or pleasure? Galiano Island.
What is your biggest phobia? Spiders and airplanes.
Where did you go to school? Vancouver, Victoria, Toronto, Cape Town.
What did you major in as an undergraduate? Modern History & Ancient History at the University of Cape Town.
The cliché that you overuse? "When I was your age…" to my kids.
The strangest talent that you possess? I can draw a relatively accurate outline/map of the world in under two minutes.
Shoe of choice? Three way tie between Vans slip ons, Adidas Gazelles and Converse All Stars.
The different career path that you could have gone on? Historian.
Your ancestry? English.
Your three favourite films? Lawrence of Arabia, Kafka, Down By Law.
Television show that you could tolerate re-runs of? Time Team.
Under what circumstances would you join the army? If Canada was at war for a good reason and they guaranteed a bagpiper would play while we went into battle.
Your most regrettable purchase ever? A gold 1973 Plymouth Valiant in 1990.
Your major character flaw? Narcissism, only because I can't think of a major character flaw (that's a joke).
The character flaw in others that you can't abide? Religious zealotry.
How do you know when you can trust someone? When they have repeatedly shown that they can be trusted.
What was the luckiest moment in your life? I've had a generally lucky life, but tops would be being born in Vancouver and meeting my wife.
What was the unluckiest moment in your life? Skateboarding and breaking a dislocated bone a split second after it was dislocated.
What are you the most proud of? The erudition and manners of my children. Working up the courage to speak to my future wife in a Toronto bookstore 10 years ago.
What are you the least proud of? My lack of math skills.
The biggest mistake you've ever made? Not talking to my lawyer first.
What is the best thing about your work? I have no boss.
What is the worst thing about your work? I have no boss.
The relatively normal piece of clothing that you believe you'd look the most ridiculous in? A vest or one of those stupid Mad Men hats.
The talent that you wish you possessed? The ability to play the guitar.
What are you listening to as you answer these questions? Burning by The Whitest Boy Alive.
What musical instrument do you secretly long to play? I've made no secret of my desire to play the guitar, so I'd have to go with the violin.
What sport did you give up and why? Cricket. Once I left private school, no other kids were playing it.
What is the game that you're best at? Chess.
What is the one animal that scares you the most? The aged, emasculated, angry male lion that has just been bested from his pride and is too slow to catch anything but the sick, injured and slow.
If you had a motto, what would it be? "A boer maak a plan." It's an Afrikaans saying that means, "A farmer makes a plan." It's the first thing I automatically say whenever I'm asked to venture an idea or opinion, or to make any kind of decision at all.
Have you ever fired a gun? If so, what were the circumstances? Yes. Target shooting in rural Ontario and on safari in the Northern Transvaal and in The Karoo.
Scariest situation you've ever been in? Watching a very drunk gangster load a handgun in front of me inside a crowded shebeen in a South African township.
Your favourite word? Elocution.
Your least favourite word? Tweet.
Your favourite curse word? "Fuck" and all its many glorious derivations.
The thing that makes you the happiest? Doing frontside smith grinds on my skateboard.
The thing that makes you the angriest? Ignorance and intolerance from people in positions of power.
Three things of no monetary value that you own and will keep dearly until you die? My grandfather's old Canadian flag from World War II. The daily journal i kept from my first year away at school in Africa. Family photographs.
Describe your tattoos? Large family crest on my right arm and six rhinos on my left arm.
The strangest road you've ever travelled? The Tete Corridor through Mozambique from Zimbabwe to Malawi.
Your first memory? Kits Beach in 1977.
The first album that made you love music? It was either Dark Side Of The Moon by Pink Floyd or Michel Jean Jarre's Oxygene.
Three songs that you could listen to on repeat for an hour? The End by The Doors. The Wind Cries Mary by Jimi Hendrix. Green Mind by Dinosaur Jr.
The one place that you have the least interest in ever visiting? Las Vegas, Nevada.
The first three things that you do every morning? Drink coffee, light a smoke, delete emails.
The best way to die? Dunno. Probably at the tail end of an orgasm.
The song that you want played at your funeral? Sympathy For The Devil by The Rolling Stones.
Who do you think we should interview next? Email your suggestions to [email protected].