Roger Mooking Can Fit His Whole Hand Into His Mouth
Posted by miriamthomas on Wednesday, November 9th, 2011
Tags for this Article: celeb chef, D-Original Sausage, Food Network, interview, Roger Mooking, tv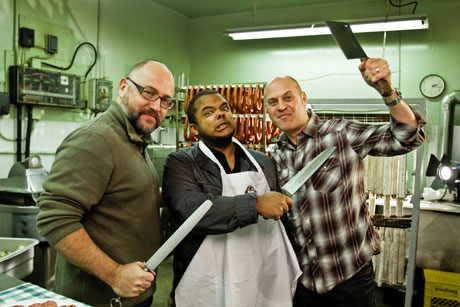 Increasingly we're asked by food industry folks to interview them for this site, which is an honour and appreciated, and fun (the reason why we do this!). Such was the case when Food Network celebrity chef Roger Mooking called, saying he was in town to promote his new cookbook "Everyday Exotic", and keen to chat on camera. Of course we couldn't say no!
Thankfully, our trusty video team of Nathan and Ryan were both conveniently available, as was our friend Drews at D-Original Sausage who offered his location as an interesting backdrop for our interview. So, with very little time to prepare pithy interview questions with which to grill Mooking, former member of the R&B group Bass is Base and host of Everyday Exotic and Heat Seekers, we met last Saturday afternoon and had some fun together—while eating some delicious D-Original Sausage of course.
Here are a selection of photos from the shoot:
The edited video of our interview is available on the Foodists video page, and we're running a contest to giveaway a signed copy of Mooking's cookbook, but in the meantime we can share some answers to some questions we borrowed from our friends at CreativeMornings and Scout Magazine. Check it out:
How do you define creativity and apply it in your career? Creativity is the ability to transform an idea into something that can be perceived in time and space.  I create things.
Where do you find your best creative inspiration? No specific place. Inspiration strikes anywhere and any time. Always strike back.
What's the one creative advice or tip you wish you'd known as a young person? I'm still a young person.
Who would you like most to hear speak at a conference? Bob Marley.
What did you learn from your most memorable creative failure? Creating anything is always a success. Making an idea into something that can be appreciated or hated is success in its purest form.
What's your one guilty creative indulgence? The ability to afford the free time to think and nurture ideas is my greatest indulgence.
What are you reading these days? NY Times, Twitter feeds, Kahlil Gibran, Dr Seuss.
What fact about you would surprise people? My toilet paper always goes over.
How does your life and career compare to what you envisioned for your future when you were a sixth grader? There are opportunities for Chefs today that didn't exist with the frequency that it does now.  I knew I would be cooking but I never imagined I could cook, make music and create so many things under one career umbrella.
How would you describe what you do in a single sentence to a stranger? I entertain people.
What's the most recent thing you learned (big or small)? It's hard to find Tamarind in Calgary.
If you had a magic wand, where would you be in five years? Wherever I am needed.
What keeps you awake at night? Kids.
Who has been the biggest influence on your life? What lessons did that person teach you? My grandmother gave me many many lessons that I remember every single day. She was the first person to show me how to rinse my nasal passages with salted water to remove toxins, allergens, etc…way before the netty pot. I always told her she should have marketed that idea. Oh well, I know the truth.
If you could interview anyone living or dead, but not a celebrity, who would it be and why? Lao Tse.
If you could do anything now, what would you do? Teleport out of this plane and into my living room.
Where was the last place you travelled? Vancouver, BC.
What was the best surprise you've experienced so far in life? The sex of my kids at birth.
Where is your favorite place to escape? My car.
What was the best advice you were ever given? All things in moderation.
What practices, rituals or habits contribute to your creative work? Ritual stifles creativity in my world.
When you get stuck creatively, what is the first thing you do to get unstuck? Clear the mind, breathe, relax.
If you had fifteen extra minutes each day, what would you do with them? Sleep.
What are three things about Toronto that make you want to live there? The most beautiful women on the planet, the diversity of the food, and summer in Toronto is unstoppable.
What are three things that Toronto doesn't have but should? Better street food.
Name the thing that you eat that is bad for you that you will never stop eating? Pork
Your favourite sound? Low rumbling loud ass bass.
Your least favourite sound? Anything with Taylor Swift.
Your favourite smells? Garlic and onions sauteing in a pan.
Your least favourite smells? Rotten meat.
Your go to, no-frills place for dinner? A ghetto little Pho spot near my house.
If you could board a plane this afternoon, where would it be taking you? Home.
The three books that you read that made an impact on you in your formative years? The Autobiography of Malcolm X. Revolutionary Suicide. Tao Te Ching.
Who's style do you covet? No one.
Where was the last place you traveled to for work or pleasure? Vancouver and before that Calgary. Book tour.
Where did you go to school? Edmonton Alberta. College at George Brown College in Toronto.
The strangest talent that you possess? I can fit my entire hand in my mouth. It's great at parties.
Your three favourite films? Apocalypse Now. The Usual Suspects. Roots.
Television show that you could tolerate re-runs of? Married With Children. Star Trek Next Generation.
Your major character flaw? I'm very impatient. Learning to master this.
The character flaw in others that you can't abide? Lying.
How do you know when you can trust someone? You don't it is always a leap of faith.
What is the best thing about your work? It lives in chaos.
What is the worst thing about your work? It lives in chaos.
The talent that you wish you possessed? The ability to draw.
What are you listening to as you answer these questions? The fan in the background.
What is the game that you're best at? Winning.
What is the one animal that scares you the most? Bears.
If you had a motto, what would it be? Spread Love.
Have you ever fired a gun? Yup.
The thing that makes you the happiest? Waking up with my kids and wife in bed.
The thing that makes you the angriest? Betrayal.
Your first memory? Sleeping on the floor of my classroom while the whole class recited the alphabet from their desks.
The first album that made you love music? Simon and Garfunkel.
Three songs that you could listen to on repeat for an hour? I do this often, and there are many.
The one place that you have the least interest in ever visiting? Europe.
The best way to die? In your sleep.
The song that you want played at your funeral? Another One Bites the Dust.
Who do you think we should interview next? Email your suggestions to [email protected].