Lesley Stowe Unveils Raincoast Cookies
Posted by Andrea Busse on Wednesday, October 12th, 2011
Tags for this Article: cookie, Lesley Stowe, raincoast, snack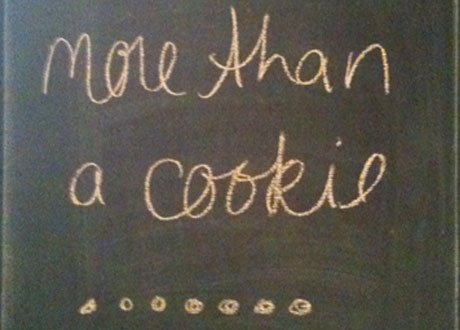 We all know how awesome Lesley Stowe Raincoast Crisps are. In our home, we always have some in our pantry for guests or just for a quick snack. After seven successful years, It seems like a natural progression to go from one hand held snack food to another.
I went to Lesley Stowe's house, with fellow Foodist Tyler, for an advanced tasting event where three all-natural gourmet cookies were unveiled. Lesley also treated us to pairings of smoothies with each cookie; the idea being that these cookies could be combined with a smoothie to serve as a great breakfast when running out the door.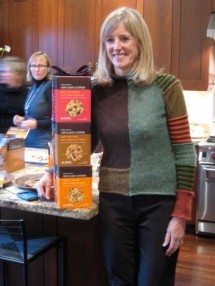 These are more than just cookies though, they fill the gap between a cookie and a power bar; being nutritious, filling, and great tasting. Now, I know what you're thinking… A healthy cookie? For breakfast? Well, yes. The ingredients are all natural and include chia, flax seeds, nuts and high-fibre fruits. The only question on our minds now was, do they taste good?
Each cookie was moist, chewy and had a great combination of sweet, nutty, flavors that made each one distinct. My favourite was the Dark Chocolate, Tart Cherry & Pecan cookie. I'm not sure that'll be a breakfast staple in our house, but it will definitely fill the mid-afternoon cravings. The other two cookie flavours are  Apricot, Ginger & Slivered Almond and Dried Cranberry & Toasted Hazelnut, which were both amazing. While the ginger packed some zip next to the subtle apricot flavour,  it was contrasted nicely with the chewy texture and tartness of the Cranberry cookie.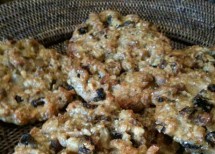 So, whether you need something quick for breakfast or need a 3pm pick me up, these single-serving cookies should fill the void. They are available in stores such as Urban Fare and Whole Foods for under $3. And for those who like to support local businesses, these products are produced in their warehouse in Richmond.