In Pursuit of the Best French Onion Soup Recipe
Posted by Andrea Busse on Sunday, November 13th, 2011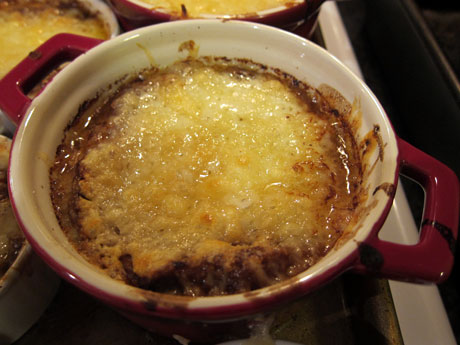 Last week, fellow Foodist Karen Hamilton went to Montreal to participate in the Van Houtte Coffee Getaway (watch for the post!). As a good Foodist would, she went with an empty suitcase, and returned with it filled with presents. Not touristy presents for her husband and child, but FOOD presents for her fellow Foodists! That sucker was packed full with Montreal bagels, smoked brisket from Schwartz's Deli, organic whole duck foie, pickles, pastries, chocolates, and coffee… On Friday, we all headed over to see if we could eat it all up. It was slated as the Montreal Movie Night, and we were all asked to add something edible to supplement the already full menu.
I love French Onion soup and rarely have it, so thought I'd try my hand at it. Off I went in search of a recipe. I found that even the 'greats' have different ingredients and styles for the soup, so I ended up combining the recipes from Anthony Bourdain, Julia Child, and Michael Smith. Turns out that French Onion soup is harder to make than anticipated. Well, not harder, but took a lot longer than expected. Set aside 2.5 hours.
STEP 1
8 onions, sliced
6 oz butter
1 tbsp olive oil
I used the Cuisinart to make fast work of those onions – with almost no crying!
Combine these three ingredients in a big pot, cover and cook for 15 minutes on low/med heat.
STEP 2
1 tsp salt
1/4 tsp sugar
Add this to the onions and turn up the heat a bit. Stir, wait, stir and wait some more. Caramelize the onions and make sure they are dark brown. This will take about 40-45 minutes.
STEP 3
3 tbsp flour
Add and cook for another 3 minutes. This was in the Julia Child recipe, but I think next time I'd leave this out as the soup ended up being quite thick.
STEP 4
3 oz port/brandy/red wine. Your choice.
2 oz balsamic vinegar.
Add and deglaze the pan. Scrape up those brown bits. That's flavour!
STEP 5
2 litres stock, boiled separately. Bourdain and Smith say chicken stock. Child says beef. So, I split the difference and used one litre of each.
3 slices bacon, cubed. I added these, then took them out at the end because I found them too chewy.
1 Bouquet garni (fresh thyme, flat leaf parsley, and a bay leaf in cheesecloth)
Take the pot with the caramelized onions off the heat, then add these last three ingredients and simmer for 30-45 more minutes skimming the top if necessary.
STEP 6
While the soup is simmering, shred the cheese (use the Cuisinart if it is still out!) and prep the croutons.
3 cups Gruyere and Swiss cheese, shredded.
Cut the bread into circles that will fit the bowls you will use. Bake them at 325 for half an hour. Half way through, baste them with olive oil, and flip them.
STEP 7
Now it's time to assemble it and make the ooey gooey cheesey goodness bubble on top! Spoon soup into oven-safe bowls, add the toasted croutons (you may want to crack them in half – I found it a little hard to cut through the bread while eating), top with lotsa cheese, and then broil them on HIGH. Get it bubbly and hopefully dark on top. If you want, you can always use a torch to do the browning on top without the anxiety of watching them brown under the broiler.
Like I mentioned earlier, I found it a little bit too thick and not soupy enough for me. I want some broth with my French Onion soup. So, maybe leave out the flour.
What are your variations on it? Looks like I have to make it again soon – the Foodists ate it all up at Montreal Movie Night and there were no leftovers!