Hot and Sour Soup – Matt style
Posted by Matt SamyciaWood on Monday, March 16th, 2009
Tags for this Article: Asain Home Gourmet, Hot and sour, soup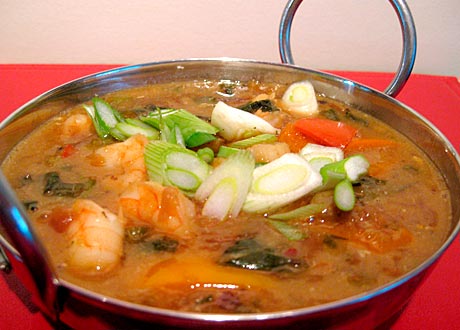 I decided to make Hot & Sour soup for the first time last night with the aid of my new found friend 'Asian Home Gourmet'.
I followed the recipe, but added a few different things. Here is the recipe and instructions:
Add 4 cups of broth (I used veggie broth) into a pot with the Asian Home Gourmet Hot & Sour soup paste. Bring to a boil. Add in cooked veggies (I caramelized onions for 30 minutes, and added red and orange peppers, cilantro, bok choy and Asian green beans – all chopped finely) and a bag of defrosted shrimp. Mix 2tbs of corn starch with 2tbs of water and add to soup. Let simmer for 3 minutes. Gradually add 1 beaten egg. Serve and garnish with chopped spring onions.
The packaging says that it is medium hot in taste but I felt it was quite mild. The uncooked spring onion on top complimented the flavours of the soup.
If I hadn't spent 30 minutes caramilising the onions this would be a quick meal to prepare. It was very filling and was especially good on a cold night.